Now available: six films by Jon Behrens on Blu-Ray
Posted May 14th, 2018 in New Acquisitions, New DVDs, News / Events

Six films produced between 1996 and 2013 by Seattle-based programmer, filmmaker, sound manipulator, and educator Jon Behrens are now available for individual sale on a Blu-Ray disc designed by the artist.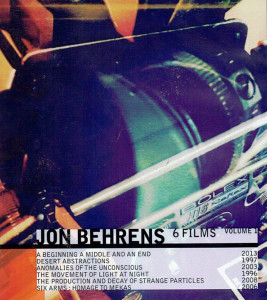 6 Films, Volume 1 (1996-2013 | 44 minutes)
Collection on of six 16mm films on Blu-Ray blu-ray disc designed and produced by the artist.
Includes the following films:
A Begninning A Middle and an End (2013) colour, sound, 6 min
Desert Abstractions (1997 | 10 minutes | COLOR | SOUND)
This is a film that I had wanted to make for many years. It was not until the summer of 1996 that I actually got it together and shot it. Again with the help of Steve Creson we packed up all our equipment and loaded on to a plane and flew to Arizona were we rented a car and drove around the desert for week and filmed everything that we thought looked interesting. This film is similar to the films in my urban landscapes series, only this film was shot in eye popping full color and there are no man made elements in this film at all. Lots of rock formations, colors, and shapes only things made my mother nature. This film also has a film score by RUBATO.
Anomalies of the Unconscious (2003 | 12 minutes | COLOR | SOUND)
This is the second film of the Anomalies Cycle. It is a hand Painted and manipulated film. I also used the technique of bleaching and batiking of the film emulsion. The footage was then step printed on a J-K Optical Printer. Although similar in style to The Flickering of the Minds Eye, I began to experiment more with other colors and different textures such as dried leaves and flowers, hair, insect parts, and a variety of different types of inks and paints. The sound track for this film was performed by NEGATIVLAND.
The Movement of Light At Night (1996 | 5 minutes | COLOR | SOUND)
This was the first film that I collaborated with fellow filmmaker and friend Steve Creson. We each shot a 100ft roll of film and we did not know what each other were shooting. The only thing that our footage had in common was the fact that it was all shot in color and at night. At the time that we did this we were each experimenting with new techniques of our own. This took place on a nice summer evening in July of 1996. This film sparked the beginning of a very prolific partnership. Film score by RUBATO.
The Production and Decay of Strange Particles (2008 | 7.5 minutes | COLOR | SOUND)
In this film I began to experiment more with creating mats with liquid latex directly on the film emulsion then bleaching of all the excess image around the latex and using the clear bleached sections of film as a canvas to paint my film poem I used special inks that were custom made just for me called Keneville Dyes I then to re-photograph it all on my beloved JK optical printer. I also created this film's sound design.
Six Arms: Homage To Mekas (2006 | 3 minutes | COLOR | SOUND)
404