Now available: digital versions of 13 works by Mark Street
Posted September 14th, 2018 in New Acquisitions, News / Events

Thirteen works by Mark Street are now available as digital files.
"My interests in filmmaking are restless and peripatetic. I've made films about the American flag, soft-core pornography, a Brooklyn walk, a trip to Mexico, abstract shapes on black leader, and day-to-day life in Tampa, Florida. Each new project sends me spinning in a new direction. Because I reject the constraints of traditional production values and develop my own process for each new film, any subject seems possible." -Mark Street
After Synchromy (2015 | 6 minutes | COLOR | SOUND)
An homage and reimagining of Norman McLaren's 1971 film.
Still Here (2015 | 25 minutes | COLOR | SOUND)
The empty nest swirls around him and a filmmaker shoots a series of stills in and around the city. His only sibling dies, he ages and politics offer a brief reprieve. He tries various medicines but ultimately ends up irrevocably himself.
L'avenida de la Luz (Avenue of Light) (2014 | 4 minutes | COLOR | SOUND)
made in Buenos Aires, Argentina.
An unflinching look at street vendors who make their living selling toy lights to the parents of children attending theatrical plays in Buenos Aires.
Lima Limpia (Clean Lima) (2014 | 10 minutes | COLOR | SOUND)
made in Lima, Peru
An observational documentary made in Peru's capital. The film begins with the legions of street sweepers who attack the sidewalks with a balletic intensity, and moves on to consider other urban vignettes in this powerful, dense city.The protagonists of the film quixotically and optimistically chip away at the dirt of this locale through a series of repeated gestures.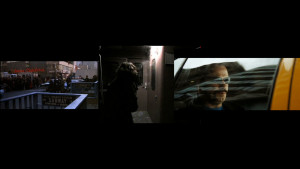 (Re) Taking of Pelham 1 2 3 (x3) (2013 | 12 minutes | COLOR | SOUND)
A mashup performance for three video projectors, presented with various musicians. All three versions (1974,1986 and 2006) are edited and projected side by side with live mix from each and musical accompaniment.
Vera Drake, Drowning (2012 | 3 minutes | COLOR | SOUND)
35 MM, Snow, Ice, Rain, Sun
I buried a 35 mm trailer for the Mike Leigh film in my garden and came upon it several years later. The vagaries of nature (snow, rain, ice, sun) yielded a scrupulous document of the passing of time. Soundtrack made up of ambient musique concrete and snippets of music sung by women.
Collision of Parts (2010 | 15 minutes)
A kaleidoscopic reverie recorded over a period of five years in various urban milieus. An excavation of the concept of montage: small moments public and private brush up against each other, creating a charged tapestry of the immediate. Inside and outside, motion and stasis, home and travel, light and dark: a series of contrasts do battle.
Hidden in Plain Sight (2008 | 60 minutes | COLOR | SOUND)
Original music composed by Jane Scarpatoni and Guy Yarden
HIDDEN IN PLAIN SIGHT is inspired by the tradition of cinematic city symphonies and is made up of footage shot in four cities: Santiago de Chile, Hanoi Vietnam, Dakar Senegal and Marseille France. Vignettes from each place are juxtaposed so that the viewer is pulled from place to place, picking up the pieces, making connections only to have them disappear just as quickly.
Historical details (about Salvador Allende and Ho Chi Minh, among others), quotes from writing (by Miriama Ba and Charles Baudelaire and others), laconic captions, scored music, and expressionistic sound design offer contrasting contexts in which to view these images. *Hidden in Plain Sight* offers a dynamic way of viewing street life in these locales, encouraging us to think about how we apprehend a place visually and conceptually.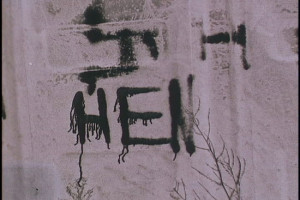 Alone, Apart: The Dream Reveals the Waking Day (2004 | 7 minutes | COLOR | SOUND)
An homage to two ramshackle cities, made up of footage shot while wandering. I meander city streets with a camera, looking to be haunted by unfamiliar vistas. I find solace in the forgotten landscapes, odd voices on a ham radio, shimmering water in a desolate harbor. Later I attack the film, moving it this way and that, trying to squeeze it against its will, wrest strangeness from the everyday.- DUMBO Film and Video Festival, 2004.
– Films Contre La Nature, Marseille, France, 2005
– Lower West Side Film Festival, NYC, 2005.
Fulton Fish Market (2003 | 12 minutes | COLOR | SOUND)
New York City's Fulton Fish Market explodes with movement, sound and color between the hours of midnight and 7 AM, Monday through Friday in lower Manhattan. Fish hooks flail, crates are ripped open, and tens of thousands of fish are arrayed in ice as discerning retailers and restaurant owners make the rounds. This lyrical, visually vibrant documentary reveals a profoundly tactile material world tucked away in the shadow of the digital age. Hand made effects and a haunting, sparse soundtrack underline the chaos and beauty of this teeming market."… blends scenes of the legendary waterfront market filmed in the early hours of the morning with hand-painted, emulsion-scratched abstractions turning the place into something beautiful and mysterious." Stephen Holden, New York Times, 2/27/04.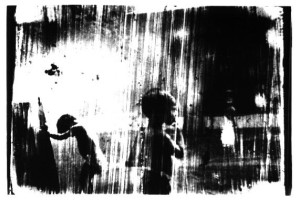 Sweep (1998 | 7 minutes | COLOR | SOUND)
A day like any other: Brooklyn beckons so they dart out into it. Daughter and father traipse from playground to subway and back home again. The 18-month-old cackles and the 32-year-old tries his best to keep up. They stumble upon a fruit vendor, a street preacher and a wall of city sound. Negative and positive hand-manipulated images collide and shimmer as they walk and talk their way through spring in the city. Maya babbles but her father is mostly silent: he can't believe that he'll never meander this way again.
Winterwheat (1989 | 8 minutes | COLOR | SOUND)
WINTERWHEAT was made by bleaching, scratching and painting directly on the emulsion of an educational film about the farming cycle. I wanted to manipulate the found footage to create lulling, hypnotic visuals while also suggesting an apocalyptic narrative. Though the images can be viewed purely for their graphic idiosyncracy, a quiet but persistent theme of destruction winds its way through the film.
"Street plays the images in a variety of ways, stating, varying and altering his theme with a symphonic sense of invention." – Calvin Ahlgren, San Francisco Chronicle
Awards: SF Int'l Film Festival, 1990
Exhibition: SF Cinematheque, 1989; Denver Int'l Film Festival, 1989; Film Arts Foundation,
1989; US Film Festival, Park City, Utah, 1990.
Echo Anthem (1991 | 8 minutes | COLOR | SOUND)
Using hand-manipulated images, ECHO ANTHEM attempts to uncover the underbelly of jingoism in 1991 America, and show its destructive conclusion. In a perverse twist, the film invites the viewer to be at once soothed and repulsed by the seething display of the flag and what it leads to.
The film establishes a tension between visual beauty and narrative and thematic concerns. ECHO ANTHEM is made up of three sections, each suggesting the same sequence of events. The viewer is challenged to fluctuate between states – from being engulfed by the visuals to being concerned about the narrative particulars and thematic possibilities.
404