New filmmaker: Diane Kitchen
Posted December 4th, 2018 in New Acquisitions, New Films, News / Events

Diane Kitchen is an experimental ethnographer of indigenous life and keen observer of the natural world. Her films are once again available to rent from Canyon Cinema.
Videe (2014 | 8.5 minutes | COLOR | SOUND)
Consulting the text of the natural world.
Filmed in a spruce forest.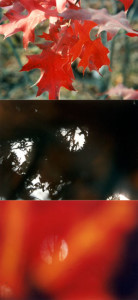 Ecstatic Vessels (2007 | 21 minutes | COLOR | SILENT)
Blaze in the trees
Blaze on the brow.
Incidents, spontaneity and presence circle wildly in the natural world.
In the deep woods the elements nod and sweep and seem to signal to each other. Incidents occur. Spontaneity. Foreground and background. Shifting perspectives. A vast scattered array pulls together and with it ideas of trees, wind, sun, and relationships.
"One exquisitely pure example of natural rhythm in poetic cinema is Diane Kitchen's Ecstatic Vessels a work of extremely restrained compositions…It is as close to a purely musical structure using natural rhythms in film, as any that I can think of…" -Dan Barnett
"Diane Kitchen's eye for filming the natural world is distinctive and elegant…finding a richness and delicacy often ignored." -Patrick Friel
"A symphony of movement, color, focus, line." –Grant Wiedenfeld
Quick's Thicket (2004 | 6.5 minutes | COLOR | SILENT)
Breeze, shadow, and the flush of green.
Wot the Ancient Sod (2001 | 17 minutes | COLOR | SILENT)
Effects of the sun move through the turning autumn leaves. Forces are in transition; the drama of ceaseless minute interactions. All of this light and life that goes into making up the earth, the ground, the sod.
"Diane Kitchen's new tour-de-force creates a stream of intimate portraits of leaves dancing in the sun's light." -Steve Anker
"Wot the Ancient Sod seemed an incredible achievement to me. Exquisite, refined and beautifully realized – a work of great maturity that never once faltered. And courageous in its simplicity of means and straightforwardness, no trickery or showing off, just great filmmaking all the way." -Fred Worden
The Penfield Road (1998 | 5.5 minutes | COLOR | SOUND)
A fable, concerning the landscape and the open road, made up of postcards including Starved Rock, Little America, and the Silver Black Fox.
"A playful structural exploration of the contradiction of representing and inhabiting landscape." – S. Matheson and J. Lion, Pacific Film Archive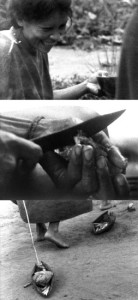 Roots, Thorns (1992 | 23 minutes | COLOR | SOUND)
Filmed on a return visit to the Asháninka in the tropical forest of eastern Peru. Moving in close to people who still live with the land, cook over fires and raise their children in the forest. Earth, river, animals, weather. Forces of turmoil and of nature. Forces that surround the senses at all times.
"The Peru films do not just give us the familiar thrill of a look at a (strange) way of life; rather… something quite amazing takes place: a kind of re-scaling of perception, so that the other space of the Asháninka, while retaining its everydayness and relative indiscernibility, can for a moment be experienced on its own terms." -Ackbar Abbas, UC-Irvine
"Mysterious, allusive, and yet also concrete, this is a work of poetry as much as of fact, opening up a new terrain for the documentary, a space of complex reflection where myth and current events flow into one another." -Dick Blau, Univ. of Wisconsin-Milwaukee
Before We Knew Nothing (1988 | 62 minutes | COLOR | SOUND)
A portrait of the Asháninka people who live in the tropical forest of eastern Peru, and a reflection on the experience of living and filming among people who continue to resist the standards of the modern world. Events are structured into a series of days and nights and move in and out of the family compound where we stayed.
"If that film is best that lifts us out of the prisonhouse of custom and transports us to other realms, then Before We Knew Nothing would have to be counted one of the treasures of CineFestival. An absorbing achievement, it is the record of several months spent among the isolated Ashaninka Indians in the remote forests of eastern Peru."
–Steven G. Kellman
"The filmmaker spent seven months in the jungles of Peru to produce not a documentary but an involved interrogation of their life." –Women in the Director's Chair
404