Letter to the Canyon Cinema community
Posted June 15th, 2020 in News / Events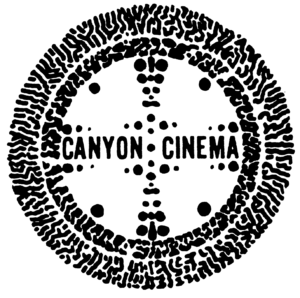 Dear Canyon Cinema Members, Friends, and Supporters,
It is with great excitement, pride, and optimism that I join Canyon Cinema Foundation as its new executive director. I benefit from, and look forward to adding to, the incredible work of previous director, Antonella Bonfanti, as well as the rich and various contributions of Canyon Cinema staff, present and past – a long and distinguished list!
Canyon Cinema is an organization that's dear to my heart and foundational to my interests; ever since I first started programming experimental film as a university student in the Canadian prairies in the late-1990s. Canyon's print catalogs provided a tangible portal to this world of alternative cinematic visions. I vividly recall poring over the descriptions, anxiously imagining what those films looked and sounded like. Such personal narratives and radiant dreams are at the core of Canyon Cinema's history and identity and they are what unify us in common cause.
As we work together to move Canyon Cinema forward at a moment of technological, economic, social, and cultural transformation, I believe the strength of this community will help us to overcome the present challenges posed by the global pandemic, and to enact a meaningful response to this country's ongoing legacy of racialized, anti-Black violence and oppression.
The recent police killings of George Floyd, Breonna Taylor, Tony McDade, and Rayshard Brooks – belonging to a continuous, centuries-long arc of racial terror – have brought increased focus to the living histories of white supremacy and anti-Black racism; galvanizing millions to take to the streets across the U.S. and around the world to demand material changes and reparations. These issues frame our future.
On behalf of the Canyon Cinema staff and board of directors, I assert solidarity with Black Lives Matter. It is necessary and urgent for Canyon to increase its efforts towards becoming a more inclusive organization – from the board of directors to the represented filmmakers and artists, and from the Friends of Canyon Cinema members to the audiences.
Canyon Cinema's origin story is well known. Bruce Baillie's concept of a backyard microcinema grew from a modest neighborhood project into one of the preeminent collections of artist-made cinema in the world today. What lessons can we carry over from its earliest days, to guide us in the present?
We might begin by acknowledging where Canyon Cinema is currently physically located. Since 2011, Canyon has been based in San Francisco's Bayview district. A historically Black neighborhood, Bayview's demographic shift – the number of Black residents has decreased significantly over the past two decades – is symptomatic of the gentrification and displacement of BIPOC folks that is taking place across the San Francisco Bay Area. Engaging more deeply with the Bayview community should be a priority in the days and months ahead. To begin this process, I encourage Canyon's members and friends to consider donating to our neighboring nonprofits, Young Community Developers and Bayview Senior Connection, which have been serving the needs of Bayview's Black residents for decades; and the nearby City of Dreams, which offers mentorship and enrichment opportunities for at-risk youth in the city's underserved communities.
Guiding Canyon Cinema through the next chapter of its history is a responsibility that I embrace fully. I welcome your ideas, feedback, and participation in the collective imagining and shaping of the organization's future. I'll be in touch again soon with more details about my vision for Canyon going forward.
Sincerely,
Brett Kashmere
---