Canyon Cinemazine
Beginning in 1962, and continuing intermittently through the mid-1990s, Canyon Cinema published the Canyon Cinemanews (also known as Canyon Cinema News, Foundation for Art in Cinema Cinema News, The Cinemanews, and The New Cinema News). The eclectic, photocopied newsletter, which included a cornucopia of announcements, letters, classifieds, how-to information, call-outs, and more, was later described by the Stanford University Archives as "the main organ of the independent filmmaking community." Abandoned due to a lack of resources, the demise of the Canyon Cinemanews left a hole in the Bay Area experimental film and art scene.
With the goal of filling this gap, and to commemorate the first 50 years of Canyon Cinema, the Canyon Cinemazine was conceived by Courtney Fellion in 2012. As Fellion explains, "Drawing inspiration from mail art and ephemeral media, the Canyon Cinemazine harkens back to the days of typewriter correspondences between avant-garde artists in the 1960s." Like its predecessor, the Cinemazine seeks to ignite and foster discussion of underground and independent film/video practice and theory by putting Bay Area artists in dialogue with the larger experimental media community.
Produced with the aid of an Alternative Exposure grant from the San Francisco nonprofit arts organization Southern Exposure, and with encouragement and support from Canyon staff, the inaugural issue of the Cinemazine was composed of Canyon member submissions; edited and designed by Fellion. Since then, the zine has continued to fulfill Fellion's goal, to "carry on the experimental and community-oriented tradition of the Cinema News." In 2019, the Cinemazine project was passed on to Canyon Cinema to continue as an annual publication.
The Cinemazine is currently available as a reward for Friends of Canyon Cinema members. A limited supply of Cinemazine #7 is available for purchase via Canyon's online store.
For more information about the Cinemazine's history and past issues, please visit: http://www.cinemazine.net
For more on the early history of the Canyon Cinemanews, check out Max Goldberg's "Make It News: Canyon Cinema in Print, 1962-1967"
---

Upcoming Issue

Cinemazine #8: Cine-Espacios
Launching: Early 2022
Edited by: Walter Forsberg and Tzutzumatzin Soto
With contributions from: Viviana Besné García, Ximena Cuevas, Walter Forsberg, Gelsen Gas, Rita González, Manu Guerrero, Brett Kashmere, Betty Kirk, Laboratorio Experimental de Cine, Jesse Lerner, Seth Mitter, Salvador Novo, Elena Pardo, Ezekiel Reyes, Isabel Rojas, Tzutzumatzin Soto, Nelly R. Tobón, Naomi Uman, Daniel Valdez Puertos, Aisel Wicab, Federico Windhausen, and many others!

As an ode to cinematographic culture and the cinephiles who sustain it, the editors of Canyon Cinema's forthcoming Cinemazine seek to capture as many details about Mexican cinema spaces as possible, while those in the know are still around. Comprising love-letters to bygone movie palaces, horse's mouth testimonials from microcinema progenitors, and a generous gravy of filmic ephemera and artefacts, "Cine-Espacios" is a 200+ page, full-color chronicle in not one, but two, languages! A special edition includes stickers and a limited audio cassette soundtrack reissue from ZAP Cassettes of Gelsen Gas' 1968 movimiento pánico experimental feature film, ANTICLÍMAX.


---

Current Issue

Cinemazine #7: Dear Folks: Notes and Letters from Bruce Baillie
2020/2021


Purchase a print copy
Download PDF (16 MB)
This issue of Canyon Cinemazine is dedicated to Canyon's founding filmmaker, Bruce Baillie, who died in April 2020 at his home on Camano Island; nearly 60 years after first welcoming friends and neighbors to a night of backyard cinema in Canyon, California.
Editors: Courtney Fellion, Max Goldberg, Brett Kashmere, and Seth Mitter
Design: Helen Tseng
This publication was generously supported by the Hobson/Lucas Family Foundation and The Friends of Canyon Cinema.
Printed by Newspaper Club
Edition of 400
64 pages, tabloid newspaper
11.25 x 14.75 inches
---

Past Issues

Cinemazine #6: Missed Connections
2019

Letters are written from a distance and go unanswered. I am trying to describe a place I have never been. The camera sees something that the person using it does not. A luminous detail or furtive glance, a chance moment found only in retrospect. Did you feel the connection too? We met 7:30 Sun 1/4 M15 bus stop 79th & 2nd. The dream gets hopelessly lost in waking. We were interrupted. You were not there, or else it's changed.
Contributors: Michael Betancourt, Alex Clausen & Ryan White, Jon Davies, Zachary Epcar, Adrianne Finelli, Max Goldberg, Santino Gonzalez, Peter Hutton (front and back covers), Seth Mitter (insert), tamara suarez porras, Justin Clifford Rhody, Rebekah Rutkoff, Talena Sanders, Chick Strand, Apichatpong Weerasethakul
Editors: John Schmidt, Alix Blevins, Antonella Bonfanti, Courtney Fellion, Seth Mitter, and Max Goldberg
This publication was generously supported by Southern Exposure's Alternative Exposures program.
Printed at the BAMPFA Art Lab
Edition of 100
32 pages
5 x 7.5 inches


---

Cinemazine #5: Loose Ends
2017/2018

Dedicated to Paul Clipson

Contributors: Faith Arazi, arc, Bruce Baillie, Anthony Buchanan, Paul Clipson, John Davis, Ryanaustin Dennis, Nazlı Dinçel, Zachary Epcar, Linda Fenstermaker, Gerry Fialka, Lawrence Jordan, Pablo Marín, Arte Matu, Bill Nichols, Belinda Cherie Perez, Natalie Tsui, Michael Walsh, Leila Weefur, and excerpts from a panel featuring B. Ruby Rich and Karen Fiss
Editors: Courtney Fellion, Kyle Wilhite, Linda Scobie
Design: Agnes Wyman
With assistance from: F. O'Neill
Cover design: Linda Scobie
Risograph prints: John Schmidt
This publication was generously supported by Southern Exposure's Alternative Exposures program.
Riso-printed with color film stills
44 pages
7 x 8.5 inches


---

Cinemazine #4: Manifesto
2016

Contributors: Bruce Baillie, Craig Baldwin, Canyon Cinema, Jon Dieringer, Amir George and Erin Christovale, Bryan Konefsky, JD Molero, No.w.here (James Holcombe, Karen Mirza, and Brad Butler), Nothing to See Here (Christina Battle and Adán De La Garza), Rick Prelinger, Lili White

This publication was generously supported by Southern Exposure's Alternative Exposures program.

11 broadsides
Variable dimensions


---

Cinemazine #3: On Sound
2014/2015

Download PDF (16 MB)

Contributors: Bruce Baillie, Michael Betancourt, Brian Darr, John Davis, Michael Daye, Clint Enns, Gerry Fialka, Walter Forsberg, Paul Glabicki, Max Goldberg, Barbara Hammer, Emma Hurst, Joey Izzo w/John Zorn, Taryn Jones, Janis Crystal Lipzin, A.G. Nigrin, Michael Walsh, Roger D. Wilson
Online Contributors: Jaime Cleeland, D. Jesse Damazo, Robert Edmondson, Trevor Jahner, Philip Mantione, Petri Kuljuntausta, Michael Reisinger for Sleeping Giant, Glossolalia, Ken Paul Rosenthal, Phil Solomon, Ashley Swendsen
Editor/Design: Courtney Fellion
This publication was generously supported by Southern Exposure's Alternative Exposures program.
First printing, sold out.
Second printing, edition of 100.
40 pages, featuring special flexi-disc insert
7 x 8.5 inches


---
Cinemazine #2: Non/Fictions
2013

Contributors: Claire Bain, Elizabeth Block, James Cleeland, Chris Cogan, Alex Edgeworth, Linda Fenstermaker, Gerry Fialka, Mathew Galindo, Bryan Konefsky & Basement Films, Toney Merritt, Daniel Mitchell, Albert G. Nigrin, Abraham Ravett, Bernard Roddy, Ken Paul Rosenthal, Russell Sheaffer, Mark Street, Julieta Triangular, Steve Wetzel, Lili White & AXWFF, Roger Wilson, David R. Witzling, John Woods, Mi Young
Edition of 150
40 pages, with vellum cover featuring light box collage by Mark Street
7 x 8.5 inches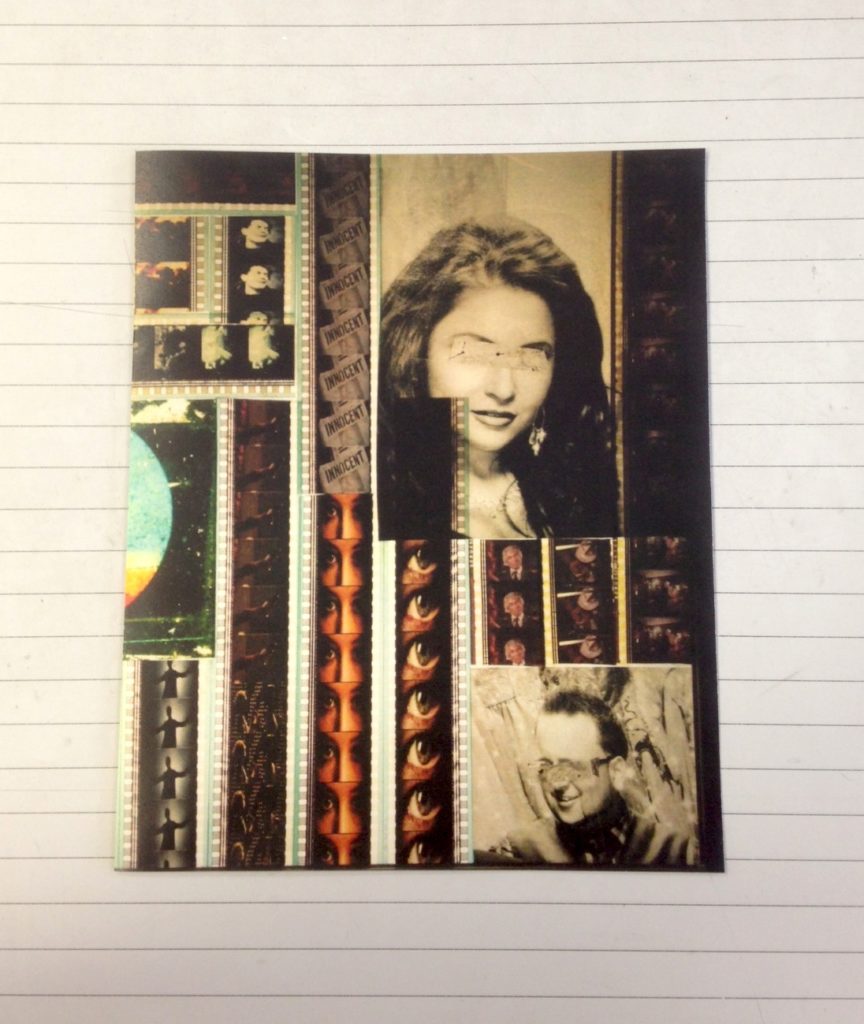 ---

Cinemazine #1: 50th Anniversary
2012/2013
This issue is a special, limited-edition gift for Canyon Cinema filmmakers in celebration of the organization's 50th Anniversary in 2011.
Contributors: Dominic Angerame, Bruce Baillie, Maïa Cybelle Carpenter, Sandra Davis, Tom Ditto, Victor Faccinto, Anna Geyer, Paul Glabicki, Barbara Hammer, Robert Huot, Lynn Marie Kirby, George Kuchar, Albert G. Nigrin, Tom Palazzolo, Lynne Sachs, Carolee Schneemann, Linda Scobie, Mark Street
This publication was generously supported by Southern Exposure's Alternative Exposures program.
Editor/Designer: Courtney Fellion
Collaborator: Linda Scobie
Assistant: Joseph Yonker
Printed by Colpa Press, San Francisco
Edition of 400, hand-numbered
24 pages, with Risograph cover
7 x 8.5 inches


---