SFMOMA's recent decision to eliminate its Film Program (among other vital, inclusive, and community-focused programs) is a stunning disavowal of its own history. Moreso, it is a shocking divestment from SFMOMA's stated commitment to "exhibiting film as an essential medium of modern and contemporary art" and to fostering a vibrant film culture in San Francisco. […]

Canyon Cinema is pleased to welcome Miami-based media artist Barron Sherer to the collection! Taking the form of hybrid film/video remediations and projection-based media installations, Sherer's work focuses on repurposing and manipulating found film, slides, video, and photographs through formal experimentation; utilizing social media platforms such as Instagram as both a source of material and […]

Now available from Canyon Cinema: Three new exhibition files from Joshua Tree-based artist and filmmaker Kate McCabe! This acquisition includes the addition of a new film to the catalog, 2018's There Are No Shadows in East Berlin, as well as new digital copies of McCabe's debut feature Sabbia (2006), a visual album for stoner rock prince, Brant […]

Canyon Cinema is pleased to announce that an exhibition file of Jeffrey Skoller's The Unimagined Lives of Our Neighbors (2019) is now available for rent.  "[A] first-person remembrance from one of the first US sailors on the ground in post-atomic Hiroshima and Nagasaki… the tale-telling comes across in a riveting minimal mode, foregrounding the witnessing, the fragile personal narration […]

Canyon Cinema is pleased to announce that an exhibition file of Dorothy Wiley's Miss Jesus Fries on Grill is now available for rent. Digital scanning provided by our friends at Berkeley Art Museum and Pacific Film Archive (BAMPFA). Miss Jesus Fries on Grill (Dorothy Wiley, 1973, 12 minutes, color, sound, digital file or 16mm) "Miss […]

Canyon Cinema is delighted to welcome Lisbon-based artist Mónica de Miranda to the collection! Mónica de Miranda is a Portuguese visual artist and filmmaker of Angolan ancestry. Working in photography, mixed media, and video, de Miranda deals with themes of geography and identity, expressing quiet visions of personal history and exploring the poetics of belonging. She received her PhD in Visual […]

Canyon Cinema is thrilled to announce that a number of assiduous, handcrafted films by Naomi Uman are now available to rent or license as digital files. The scanning and post-production work is courtesy of Seattle's Lightpress, and was supported by an Interbay Cinema Society Lightpress Grant, awarded to Uman in January 2021. This suite of new transfers […]

Now available from Canyon Cinema: Four new exhibition files from the SF cinema great Greta Snider! This acquisition includes the addition of a new film to the catalog, 2019's A Small Place, as well as stunning new digitizations of Snider-staples Hard Core Home Movie (1989), No-Zone (1993), and Flight (1996). A Small Place (Greta Snider, […]

In response to increased demand for digital access to Canyon Cinema's catalog, we are now providing digital file and/or streaming video links for approximatley 1000 works in our collection. There are two ways to discover available titles: 1. Use advanced search function filtered by "digital file"2. Browse our Canyon Cinema Digital/Streaming Access Directory The Directory […]

Canyon Cinema is pleased to announce that 12 exhibition files from Bay Area filmmaker and artist Toney W. Merritt have been added to our distribution catalog! A longtime Canyon member, Merritt has been making work for over five decades. His unique corpus of personal films and videos, totaling more than 30 titles, draws upon and […]

Canyon Cinema is delighted to welcome Mexico City-based filmmaker Elena Pardo to the collection! Elena Pardo is a maker, explorer, and promoter of the moving image. She has developed her practice around experimental cinema, combining the making of documentaries, expanded cinema, and animation. Pardo is also the co-founder of the Laboratorio Experimental de Cine (LEC), a […]

Canyon Cinema is thrilled to announce a new collaboration with our friends at Kinoscope! Subscribers can now stream 12 films from Canyon's collection, which together envision a broad range of West Coast landscapes through varied methods, on the platform: http://bit.ly/ccf-kinoscope Featuring films by: Dominic Angerame, Bill Basquin, Elizabeth Block, James Broughton and Joel Singer, Bill […]

We are thrilled to announce that the new issue of Canyon Cinemazine has now been printed! Dear Folks: Notes and Letters from Bruce Baillie is dedicated to Canyon Cinema's founding filmmaker, who died in April 2020 at his home on Camano Island; nearly 60 years after first welcoming friends and neighbors to a night of backyard cinema in Canyon, […]

Canyon Cinema is excited to welcome Tulapop Saenjaroen to the collection! Tulapop Saenjaroen is an artist and filmmaker currently based in Bangkok, Thailand. His recent works interrogate the correlations between image production and production of subjectivity as well as the paradoxes intertwining control and freedom in late capitalism. In the combined narrative and essayistic manner, […]

Canyon Cinema is pleased to announce that a new 2k digitization of Christopher Harris's Reckless Eyeballing is now available for rent. Thanks to Colorlab, Mark Toscano, and Academy Film Archive for their assistance in creating this stunning new transfer, available exclusively from Canyon. Reckless Eyeballing (2004, 13 minutes, b&w, sound, 16mm film or digital file) […]

Now available for rent from Canyon Cinema: Lynne Sachs: Between Thought and Expression, a five-program retrospective, organized by the Museum of the Moving Image and curated by Edo Choi. "For more than thirty years, artist Lynne Sachs has constructed short, bold mid-length, and feature films incorporating elements of the essay film, collage, performance, and observational […]

Canyon Cinema Foundation invites proposals for a new curatorial endeavor: Canyon Cinema Discovered. This multifaceted, year-long fellowship program aims to engender fresh perspectives on experimental cinema and to meaningfully expand Canyon's role in providing access to this key strand of American media art. Four curatorial fellows will be selected to assemble programs from Canyon's unique […]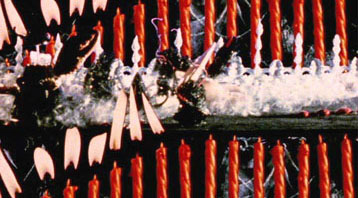 "Daina Krumins's 1982 BABOBILICONS is a spectacular special-effects study of molds, mushrooms and similar vegetation."
...
More »