The Friends of Canyon Cinema is now on Patreon! Join to receive free access to "Canyon-on-Demand" streaming programs, a subscription to the Canyon Cinemazine, 20% off Canyon merch, plus member-only updates, previews, and more. To become a member, visit: https://patreon.com/canyoncinema Sign up now and receive a special bonus gift: A Canyon Cinema enamel pin! Supply […]

In response to increased demand for digital access to Canyon Cinema's catalog, we are now providing digital file and/or streaming video links for more than 1000 works in our collection. There are two ways to discover available titles: 1. Use advanced search function filtered by "digital file"2. Browse our Canyon Cinema Digital/Streaming Access Directory The […]

Canyon Cinema is pleased to welcome Michael Alexander Morris to the collection! Michael A. Morris is an artist and educator based in Cairo, Egypt, and Dallas, Texas. His work responds to the rapid changes in how moving images are created and experienced in the 21st century, affirming the traditional space of experiencing cinema while also […]

Now available from Canyon Cinema: New films from the legendary West Coast animator Lawrence Jordan! As Hal Aigner writes, "Jordan is one of the most prolific and accomplished stalwarts of the Bay Area independent film community. He takes full advantage of the tendency of disparate objects to take on new meaning, and form new relationships […]

Canyon Cinema is happy to announce that two new films by Anna Kipervaser are now available for rent. For more on Anna's work, click here. No Garden Beyond (2019, 11 minutes, color, sound, digital file) By Anna Kipervaser + Rhys Morgan Scenes from above, below and around the Sargasso Sea, a body of water unbounded by […]

Canyon Cinema is pleased to welcome Boston-based "new & old media artist" Wenhua Shi to the collection! Wenhua Shi pursues a poetic approach to moving image making, and investigates conceptual depth in film, video, interactive installations, and sound sculptures. His work has been presented at museums, galleries, and film festivals, including International Film Festival Rotterdam, […]

Now available from Canyon Cinema: Eight new films by Nathaniel Dorsky, made over the past two years during and in response to the COVID-19 pandemic. Note: Six of these films will screen on Friday, October 29, and again on Monday, November 1 at New York's Museum of Modern Art. Proof of vaccination is required and seating […]

Canyon Cinema is delighted to welcome London-based filmmaker Che Applewhaite to the collection! Che Applewhaite "is invested in (un)making the forms of relation, perception, and expression that (dis)place shared worlds; through filmmaking, writing, and curatorial practices." As Che writes, "I hold internationalist and transdisciplinary commitments to politics of time, specificity, and cultural process that elaborate […]

Canyon Cinema is thrilled to welcome Chicago-based artist and filmmaker Deborah Stratman to the collection! Deborah Stratman makes films and artworks that investigate power, control, and belief, considering how places, ideas, and society are intertwined. Recent projects have addressed freedom, surveillance, sinkholes, comets, raptors, orthoptera, levitation, exodus, mineral evolution, sisterhood, and faith. She has exhibited […]

Canyon Cinema is excited to welcome Los Angeles-based filmmaker and expanded cinema artist Christina C Nguyen to the collection! Christina C Nguyen's work explores the periphery of human perception and experience. Her interest in systems results in the use of specific forms and structures to interface between the digital and analog methods of data and […]

Canyon Cinema is pleased to announce that two new films by Bangkok-based artist Tulapop Saenjaroen are now available for rent: Notes from the Periphery (2021, 14 minutes, color, sound, digital file) Mainly shot in the peripheral areas of the ever-expanding Laem Chabang port in Chon Buri, Thailand, Notes from the Periphery interrogates the notion of territoriality, globalized networks, […]

Two long-standing San Francisco film purveyors are thrilled to announce a new programming partnership. Beginning this August, Canyon Cinema and The Roxie Theater embark on a monthly collaboration: Canyon at The Roxie, bringing into focus visionary Bay Area film artists of past and present. Taking place in the Little Roxie, and in compliance with CDC, […]

SFMOMA's recent decision to eliminate its Film Program (among other vital, inclusive, and community-focused programs) is a stunning disavowal of its own history. Moreso, it is a shocking divestment from SFMOMA's stated commitment to "exhibiting film as an essential medium of modern and contemporary art" and to fostering a vibrant film culture in San Francisco. […]

Canyon Cinema is thrilled to announce a new collaboration with our friends at Kinoscope! Subscribers can now stream 12 films from Canyon's collection, which together envision a broad range of West Coast landscapes through varied methods, on the platform: http://bit.ly/ccf-kinoscope Featuring films by: Dominic Angerame, Bill Basquin, Elizabeth Block, James Broughton and Joel Singer, Bill […]

We are thrilled to announce that the new issue of Canyon Cinemazine has now been printed! Dear Folks: Notes and Letters from Bruce Baillie is dedicated to Canyon Cinema's founding filmmaker, who died in April 2020 at his home on Camano Island; nearly 60 years after first welcoming friends and neighbors to a night of backyard cinema in Canyon, […]

Canyon Cinema is pleased to announce that a new 2k digitization of Christopher Harris's Reckless Eyeballing is now available for rent. Thanks to Colorlab, Mark Toscano, and Academy Film Archive for their assistance in creating this stunning new transfer, available exclusively from Canyon. Reckless Eyeballing (2004, 13 minutes, b&w, sound, 16mm film or digital file) […]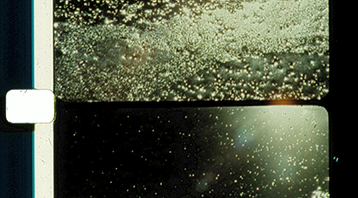 The production of sea salt flower is a process of concentration and saturation of sea water in order to form...
More »