Now Available: 13 New Exhibition Files from Dominic Angerame
Posted March 2nd, 2021 in Announcements, New Acquisitions, New Digital Files, News / Events

Canyon Cinema is pleased to announce the arrival of 13 exhibition files from the San Francisco cine-poet and documentarist Dominic Angerame! Since 1969, Angerame has made more than 35 films that have been shown and won awards in festivals around the world. As Silke Tudor attests, "To see the city through the eyes of Dominic Angerame is to see an organic beast of concrete that sifts and breathes in rich shades of black and white." (SF Weekly)

Included amongst this new acquisition are digital files for 11 films that were previously available from Canyon on 16mm, and which span more than five decades – Demonstration (1968-1974), Delaware Park (1969-1973), Putzo (1972), El Train Film – Second Version (1976), Freedom's Skyway (1980), SFAI (Art Institutionalized) (1980), The Mystery of Life (as Discovered in Los Angeles) (1982), Hit the Turnpike! (1984), Line of Fire (1997), Battle Stations – A Navel Adventure (2002), Consume (2003) – as well as the following two works that are new to the collection: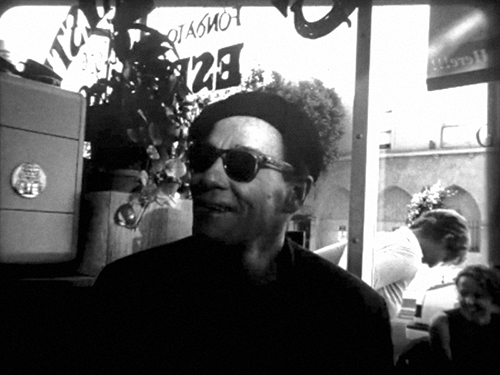 Have Another Espresso (2020, 3 minutes, b&w, sound)

"This is a tribute to my dear friend Ronald Sauer. He was a poet, collage artist, film critic and writer. He lost his life from cancer and this is a testimonial to Ronald."
Song by Shel Siverstein




Voyeuristic Tendencies (1984, 17 minutes, b&w, sound)

"VOYEURISTIC TENDENCIES is not so much a film about voyeurism as it is about our tendency to be voyeuristic. That tendency, nurtured by the filmmaker's carefully crafted succession of visual teases and exploited by the camera's ability to become our eyes, becomes increasingly evident as the film progresses. The camera teases the viewer, in this case, co-voyeur, not with sexual or erotic innuendo, but rather with graphic and aesthetic challenges. The partially opened window of a woman's dressing room forces us to realize our urge to see more. That urge comes not so much from a longing for exposed breasts, but as a need to make the picture whole, and to know more about these hidden worlds. This type of cinematically-induced self-realization makes VOYEURISTIC TENDENCIES a powerfully human film.
"Most of the people we view appear to be merely going through the motions. Their actions seem hauntingly void of emotion or thought. By temporarily becoming voyeurs, we were hoping for bigger and better things, e.g., passion … melodrama, but are left with only a secretary nervously tapping her nails." (Roger Nieboer)
"[A] perfect sex film for the '80s. We are teased, cajoled, lured and finally snubbed as we learn one possible answer to what has happened to sex; it has been subsumed in our society's current confusion between artifice and reality." (James Irwin)


---