Now available on 16mm : 9 new films by Amy Halpern
Posted October 9th, 2016 in Announcements, New Acquisitions, News / Events

Nine brand new 16mm prints of films by Amy Halpern are available to rent from Canyon Cinema!
Amy Halpern is a New York filmmaker, living & working in Los Angeles. Since childhood she has been composing with movement and light, and making 16mm abstract films since 1972. She is the co-founder of two film screening organizations: The Collective for Living Cinema, N.Y.C. 1973 – 1990 and The L.A. Independent Film Oasis, Los Angeles, 1975-1980.
Halpern has taught filmmaking at U.S.C, also at California State University L.A., Cal. State Northridge, Otis-Parsons Art Institute and in the L.A. Unified School District, while working in the film production business in camera & lighting (I.A.T.S.E. 728).
She has collaborations (lights, camera, person) with Charles Burnett's MY BROTHER'S WEDDING, Pat O'Neill's THE DECAY OF FICTION, Julie Dash's ILLUSIONS and David Lebrun's BREAKING THE MAYA CODE and DANCE OF THE MAIZE GOD. She also appears in several of Chick Strand's films, SOFT FICTION, KRYSTALNACHT, CARTOON LE MOOSE & FEVER DREAM.
Born and raised in New York City, Halpern studied & performed in modern dance with Anna Sokolow & Lynda Gudde, worked in the early 1970s in 3-D shadow-play with Ken Jacobs' New York Apparition Theatre and co-founded New York's Collective For Living Cinema.
NEW TITLES AVAILABLE ARE : 
Invocation (1982| 2 minutes | COLOR | SILENT)
Hands conjure up a form in space. The illusion is made wholly of lighting and dress – no optical effects.
Note: this film is presented deliberately without on-screen titles, and is meant to be a complete bright object in the dark. – A.H.
Injury On A Theme (2012 | 7 minutes | COLOR | SOUND)
A short sweet film concerning torture. For Lynda Gudde.
Pouring Grain (2012 | 2.5 minutes | COLOR | SILENT)
By Halves (2012 | 7 minutes | COLOR | SILENT)
Palm Down (2012 | 6 minutes | COLOR | SILENT)
Two palindromes. One resurrection. No happy ending.
with Arwa Ibrahim
1 – Detention
2 – Hollywood Hills
3 – Reptile
4 – Bestiary
5 – Abstract and Concrete
6 – Doorway Occupation
7 – Sideways
Elixir
(2012 | 7 minutes | COLOR | SILENT)
with Asha Wilson & Joyce Campbell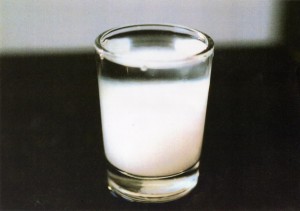 with Yogi John Franzoni
with Adnan Inbrahim
"Stand up and use your ears like a man" – Charles Ives
404