Twelve DVDs from Lynne Sachs now available for rental
Posted December 12th, 2017 in New Acquisitions, New DVDs, News / Events

Twelve titles from experimental documentarian Lynne Sachs are now available to rent on DVD from Canyon.
Window Work (2000 | 9 minutes | COLOR | SOUND)
A woman drinks tea, washes a window, reads the paper – simple tasks that somehow suggest a kind of quiet mystery within and beyond the image. Sometimes one hears the rhythmic, pulsing symphony of crickets in a Baltimore summer night.. Other times jangling toys dissolve into the roar of a jet overhead, or children tremble at the sound of thunder. These disparate sounds dislocate the space temporally and physically from the restrictions of reality. The small home-movie boxes within the larger screen are gestural forms of memory, clues to childhood, mnemonic devices that expand on the sense of immediacy in her "drama." These miniature image-objects represent snippets of an even earlier media technology – film. In contrast to the real time video image, they feel fleeting, ephemeral, imprecise.
Noa, Noa (2006 | 8 minutes | COLOR / B&W | SOUND)
"Over the course of three years, Sachs collaborated with her daughter Noa (from 5 to 8 years old), criss-crossing the wooded landscapes of Brooklyn with camera and costumes in hand. Noa's grand finale is her own rendition of the bluegrass classic 'Crawdad Song'."
– Anthology Film Archives, New York, May 2006
Atalanta 32 Years Later (2006 | 5 minutes | COLOR | SOUND)
A retelling of the age-old fairy tale of the beautiful princess in search of the perfect prince. In 1974, Marlo Thomas' hip, liberal celebrity gang created a feminist version of the children's parable for mainstream TV's "Free To Be You and Me". Now in 2006, Sachs dreamed up this new experimental film reworking, a homage to girl/girl romance.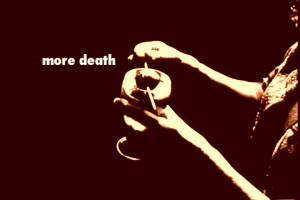 The Small Ones (2006 | 3 minutes | COLOR | SOUND)
During World War II, the United States Army hired Lynne Sachs' cousin, Sandor Lenard, to reconstruct the bones – small and large – of dead American soldiers. This short anti-war cine-poem is composed of highly abstracted battle imagery and children at a birthday party.
"Profound. The soundtrack is amazing. The image at the end of the girl with the avocado seed so hopeful. Good work."
-Barbara Hammer
The X Y Chromosome Project (2007 | 11 minutes | COLOR | SOUND)
by Lynne Sachs and Mark Street
In addition to our two daughters, we make films and performances that use the split screen to cleave the primordial and the mediated. After returning from an inspiring week long artist retreat at the Experimental Television Center, Lynne asked Mark to collaborate with her on the creation of a piece in which they would each ruminate on the other's visual, reacting in a visceral way to what the other had hurled on the screen. Lynne would edit; Mark would edit. Back and forth and always forward. No regrets or over-thinking. In this way, the diptych structure is sometime's a boxing match and other times a pas de deux. Newsreel footage of Ronald Reagan's assassination attempt is brushed up against hand painted film, domestic spaces, and Christmas movie trailers. Together, we move from surface to depth and back again without even feeling the bends.
Georgic for a Forgotten Planet (2008 | 11 minutes | COLOR | SOUND)
I began reading Virgil's Georgics, a 1st Century epic agricultural poem, and knew immediately that I needed to create a visual equivalent about my own relationship to the place where I live, New York City. Culled from material I collected at Coney Island, the Lower East Side, Socrates Sculpture Garden in Queens, a Brooklyn community garden and a place on Staten Island that is so dark you can see the three moons of Jupiter. An homage to a place many people affectionately and mysteriously call the Big Apple.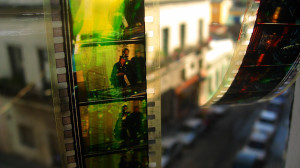 Cuadro por Cuadro (Frame by Frame) (2009 | 8 minutes | COLOR | SOUND)
by Lynne Sachs and Mark Street
In "Cuadro por caudro", Lynne Sachs and Mark Street put on a workshop (taller in Spanish) with a group of Uruguayan media artists to create handpainted experimental films in the spirit of Stan Brakhage. Sachs and Street collaborate with their students at the Fundacion de Arte Contemporaneo by painting on 16 and 35 mm film, then bleaching it and then hanging it to dry on the roof of the artists' collective in Montevideo in July, 2009.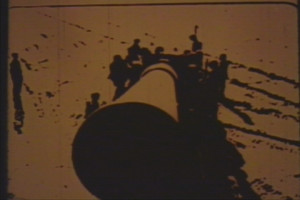 The Task of the Translator (2010 | 10 minutes | COLOR | SOUND)
Lynne Sachs pays homage to Walter Benjamin's essay "The Task of the Translator" through three studies of the human body. First, she listens to the musings of a wartime doctor grappling with the task of a kind-of cosmetic surgery for corpses. Second, she witnesses a group of Classics scholars confronted with the haunting yet whimsical task of translating a newspaper article on Iraqi burial rituals into Latin. And finally, she turns to a radio news report on human remains.
Sound of a Shadow (2011 | 10 minutes | COLOR | SOUND)
made with Mark Street
Super 8mm film on video
A wabi sabi summer in Japan – observing that which is imperfect, impermanent and incomplete – produces a series of visual haiku in search of teeming street life, bodies in emotion, and leaf prints in the mud.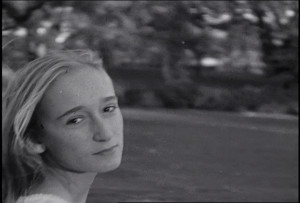 Same Stream Twice (2012 | 4 minutes | COLOR / B&W | SOUND)
16mm on DVD
My daughter's name is Maya. I've been told that the word maya means illusion in Hindu philosophy. In 2001, I photographed her at six years old, spinning like a top around me. Even then, I realized that her childhood was not something I could grasp but rather – like the wind – something I could feel tenderly brushing across my cheek. Eleven years later, I pull out my 16mm Bolex camera once again and she allows me to film her – different but somehow the same.
Drift and Bough (2014 | 6 minutes | B&W)
Super 8mm on Digital
Sachs spends a morning this winter in Central Park shooting film in the snow. Holding her Super 8mm camera, she takes note of graphic explosions of dark and light and an occasional skyscraper. The stark black lines of the trees against the whiteness create the sensation of a painter's chiaroscuro. Woven into this cinematic landscape, we hear sound artist Stephen Vitiello's delicate yet soaring musical track which seems to wind its way across the frozen ground, up the tree trunks to the sky.
Music by Stephen Vitiello.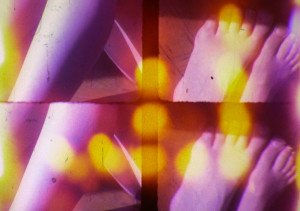 Starfish Aorta Colossus (2015 | 4.5 minutes | COLOR | SOUND)
Poetry watches film. Film reads poetry. Paolo Javier's text is a catalyst for the digital sculpting of an 8mm Kodachrome canvas. Syntactical ruptures and the celebration of nouns illuminate twenty-five years of rediscovered film journeys. NYC poet Paolo Javier invited Lynne to create a film that would speak to one of his poems from his newly published book Court of the Dragon (Nightboat Books). Sachs chose Stanza 10 from Javier's poem "Starfish Aorta Colossus". She then decided to collaborate with film artist Sean Hanley in the editing of the film. Together, they traveled through 25 years of unsplit Regular 8 mm film that Sachs had shot — including footage of the A.I.D.S. Quilt from the late 1980s, a drive from Florida to San Francisco, and a journey into a very untouristic part of Puerto Rico. Throughout the process, Sachs and Hanley celebrate the haunting resonances of Javier's poetry.
404