Henry Hills returns to Canyon
Posted April 26th, 2018 in Announcements, New Acquisitions, New Films, News / Events

Canyon Cinema is honored to welcome filmmaker, teacher, and erstwhile Cinemanews editor Henry Hills back to its catalog. Ten of his rhythmic, collaborative works are now in distribution.
"Film is so large and we are so small. Every maker in this catalog has a very partial approach. I think of editing as a way to make it my own. To make it tangible and manageable and re-viewable, something I might want a copy of in my record library one day. Relentlessly I chisel away night after night, improvising new subtleties, surprizing myself, ever improving, grooving, yet somehow never perfecting. Film is so obviously imperfect, that's what makes it possible. I'm always surprized how different it can be, even the same piece seen again. Everything informs it, yet essentially it remains the same, a miracle, a mirage. It eventually says let go, sometimes too soon, sometimes too late. I recreate the rhythms of my body, the pulses of my brain. I view the frantic results and relax. I gather what images I may. So homely and yet so grand. I was doomed when I first touched a Bolex and discovered a meaning for my life. The whole thing is a comedy and there's no escape. so dig it. I used to think that it would end, that some coherent electronic miracle would replace it. Now I'm not so sure. I think it will rebound because its just so beautiful." -Henry Hills
Porter Springs 3 (1977 | 7 minutes | COLOR | SILENT)
These beautiful, intricately animated reflections were unfortunately shot in ECO which has proved to be remarkably unstable, turning blue before I had an internegative made. Therefore, this is one of only three prints of this "elegant and serene experience" (Pat O'Neill).
North Beach (1978 | 12 minutes | COLOR | SILENT)
Documentary of my neighborhood of three years. The lamp at the end of the alley between Molinari Delicatessen and Rossi Market (view from Roma) as christological numen mediating between the Above and the Below. Above: the stairs behind my "illegal" at 1735B Stockton. Moving out. Columbus Day Parade: serpent. Below: the hills as Nestle's Crunch.
"NORTH BEACH is a beautiful film. The human race should stick around to enjoy it. It's all cinema, all experience. No 'problems,' art in-jokes, other fashionable bluffing. Hills composes, orchestrates. The film's a concentrate of rhythmic invention, solid work, shapely; gorgeous." -Ken Jacobs
Kino Da! (1981| 4 minutes | B&W | OPT)
Shot in sync with wind-up Bolex. Sound recording: Mark McGowan.
Portrait of North Beach Communist cafe poet & gentle comrade, Jack Hirschman.
Radio Adios (1982 | 12 minutes | COLOR | OPT)
Starring: Hannah Weiner, Diane Ward, Sally Silvers, Jemeel Moondoc & Muntu, Aline Mayer, Jackson MacLow, Abigail Child, Charles Bernstein, Bruce Andrews and Rashied Ali on drums, with George Kuchar as a Maoist revolutionary.
A superabundance of useless information effectively subdues freedom of speech. Condense and survive!
RADIO ADIOS is a monologue in 12 plaited strands; an extremely precise, condensed and intensely rhythmic Busby Berkeleyish spectacle of an examination of conversational and literary language over a fair range of vocal timbre, microphones, volume settings and single-system sync peculiarities and its dissolution into music to the accompaniment of simultaneous Manhattan ambiences punctuated by fragments of jazz … personalized handheld camera movement, movement from cut to cut – juxtapositions of scale, pulsating changes in light intensity, a varying pallette of various filmstocks, generations, etc., at an appropriately furious pace and in strict one-track sync … offering simultaneously several levels of apprehension or interpretation to encourage multiple viewings. Text published in O.ARS/3: Translations (Cambridge, 1983).
Brakhage says it's real.
Money (1985 | 15 minutes | COLOR | OPT)
Starring: John Zorn, Diane Ward, Carmen Vigil, Susie Timmons, Sally Silvers, Ron Silliman, James Sherry, David Moss, Mark Miller, Arto Lindsay, Pooh Kaye, Fred Frith, Alan Davies, Tom Cora, Jack Collom, Yoshiko Chuma, Abigail Child, Charles Bernstein, Bruce Andrews.
Filmed primarily on the streets of Manhattan for the ambient sounds and movements and occasional pedestrian interaction to create a rich tapestry of swirling colors and juxtaposed architectural spaces in deep focus and present the intense urban over-flowing energy that is experience living here. MONEY is thematically centered around a discussion of economic problems facing avant-garde artists in the Reagan era. Discussion, however, is fragmented into words and phrases and reassembled into writing. Musical and movement phrases are woven through this conversation to create an almost operatic composition. Give me money! "If time is money, this 15-minute film is a bargain." – J. Hoberman, The Village Voice
"Henry Hills's most recent superspliced effort is MONEY, a speedy think-piece on cash and chaos in post-capitalist New York. ? It'll titillate your retina." – Katherine Dieckmann, NY Talk
SSS (1988 | 5 minutes | COLOR | OPT)
A dance film, starring Pooh Kaye, Sally Silvers, Lee Katz, Harry Sheppard, Kumiko Kimoto, David Zambrano, Ginger Gillesbie, Mark Dendy and others, with music improvised by Tom Cora, Christian Marclay and Zeena Parkins. Filmed on the streets of the East Village and edited over three years.
George (1988 | 2 minutes | COLOR | SILENT)
When I recently moved, I found the "lost" original of this optically printed portrait of George Kuchar smoking (with Melinda McDowell and Virginia Giritlian): four or more scenes progressing simultaneously through frame alternation.
Bali Mechanique (1992 | 17 minutes | COLOR | OPT)
Starring the dancers from the Tirta Sari, Gunung Sari and Samara Jati gamelan orchestras of Peliatan.
BALI MECANIQUE is a two-part, self-reflective study of the dance and rhythms of life in Bali, combining experimental film techniques with documentary-style footage. The first section presents a complete Legong dance intercut with footage of Odalans (temple celebrations) and sacred architecture, building into an increasingly frenetic collage as the dance reaches its crescendo. In contrast, the second section weaves together footage of lush rice terraces and the "erotic bumblebee" of the Oleg Tambulilingan dance to give a humorous literalization of the "other" vision of Bali; the Westerners' paradise on Earth, set to the original record of "Bali Hai" from South Pacific, which the filmmaker grew up on and recently found in a stack of discs on the floor of a closet in his parents' house. The film ends with the famous Kris dance of Batubulan as it is performed today.
Little Lieutenant (1994 | 7 minutes | COLOR | OPT)
Made with Sally Silvers.
LITTLE LIEUTENANT is a look back at the late Weimar era with its struggles and celebrations leading up to world war, a period piece. Scored to John Zorn's arrangement of the Kurt Weill song, "Little Lieutenant of the Loving God," and drawing its imagery both from the original song and its somewhat idiosyncratic rearrangement, the film presents an internal reading of Silvers' solo scored to the same musical piece, "Along the Skid Mark of Recorded History." Closely following the Zorn arrangement, the film was storyboarded in 30 scenes (the arrangement changes approximately every four measures) and principally shot in a small studio employing rear projection, with foreground movement choreographed to interact with the projected imagery which reflects themes apparent in the song and its arrangement (Weimar cabaret scenes, labor footage, empty industrial landscapes, water, slides of moody photographs by James Casebere, a kinescope of Silvers' performance of the solo at the Joyce Theatre, battle newsreels, Walther Ruttmann's film Berlin: Symphony of a Great City, and a restructured animation, The Youth Machine). Silvers and Cydney Wilkes portray dual aspects of the Salvation Army Lieutenant who sang the song in the Brecht/Weill play Happy End, with Kumiko Kimoto, Leonard Cruz, Pilar Alamo and Toby Vann.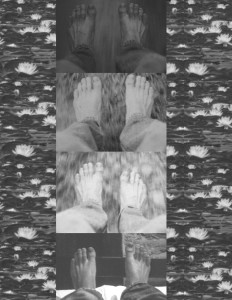 Porter Springs 4 (1999 | 15 minutes | COLOR | OPT)
A "remake" of my first (1975) film, composed from footage shot on summer vacation in the North Georgia mountains over 20 years (reversal, negative, 8mm, super-8, 8mm video, mini-DV, & old photos), with an audio track composed from the video sync, ambient recordings, and a tape I made in highschool of my uncle telling stories and playing piano selections from his record collection that we listened to on family vacations in my childhood. The sadness of my father growing old and feeble, my only footage of my dead sister and grandmother (Gonga) and of my log cabin (the Bug House) which was struck by lightning and burned to the ground in 1990, memories of my two ex's, eternal nature, endless walks in the woods, building my new cabin and dream time there, and various typical family scenes, assembled and presented in the rhythms of my mind and body.
404