Now available: three files from Larry Gottheim
Posted January 16th, 2019 in New Acquisitions, News / Events

"Gottheim's Cinema is a quest of origins. The films elaborate a response to the fictions of our world, the construction of images and sounds, the repeating cycles of life and nature. The profoundness of Gottheim's act is to elaborate a body of work outside of fashion and within a search for an authentic language of cinematic discourse." – John Handhardt, Whitney Museum
Digital exhibition files of three works by Larry Gottheim are now available.
Your Television Traveler (1991 | 17 minutes | COLOR | SOUND)
The history of space, the place of mystery, the mystery of trace, the space of history.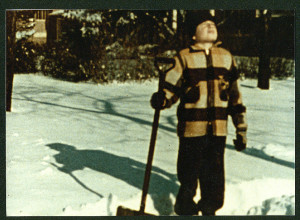 Tree of Knowledge (Elective Affinities Part IV) (1981 | 57 minutes | COLOR | SOUND)
"It started with filming the tree. Something was released in that manner of filming seemingly farthest removed from the procedure of the early films. I first thought a simple ordering of this rich material might be enough, something related to BARN RUSHES. But the essential feelings and meanings of that filming held themselves back. So I pursued sounds of comparable texture and richness, from which material the 'deaf bar" (thanks to Roger Jacoby and Pittsburgh Filmmakers) and stockyard (thanks to Alan Berliner and U. of Oklahoma) sounds attached themselves to the work. But the film only came into its form-life with the idea of linking this deep-rooted and far-outreaching tree material with that film on paranoia that had fascinated me for many years. (…)"
– L. G.
Four Shadows (Elective Affinities Part III) (1978 | 64 minutes | COLOR | SOUND)
Like constellations wheeling round, a double chain of four image segments and four sound segments wheel past each other in 16 combinations – a family of Gibbon apes, a landscape measured, a shadowed diagram after Cezanne, a wintry urban scene, a text by Wordsworth, a climactic scene from Debussy's opera Pelleas et Melisande …. The stately ceremony can generate rich sensuous cinematic pleasure as well as a free-flowing stream of associations. Containment and flowing free – these are some of the issues. The third film in the Elective Affinities cycle.
404