Hand Painted Films of Stan Brakhage Screening
Posted November 16th, 2011 in Announcements, Events and Screenings, News / Events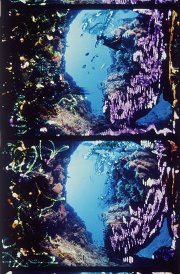 Hand Painted Films of Stan Brakhage Screening
7:00 – 9:00 pm
Friday, November 18, 2011
Ninth Street Independent Film Center
145 Ninth Street
San Francisco, California
Canyon Cinema, one of the world's premier experimental film distribution centers is in the process of celebrating its 50th year anniversary.
Undoubtedly, Canyon Cinema has become synonymous with Bay Area independent and experimental film. At present, Canyon Cinema has 320 members worldwide and distributes more than 3,200 films and hundreds of DVDs. As we have actively grown over the past fifty years, Canyon has chronicled the history of this unique genre. This fall we celebrate our anniversary and remember our shared lineage with the Bay Area experimental film scene through a series of screenings at the Ninth Street Independent Film Center. These events were possible through a generous grant from the Academy of Motion Picture Arts and Sciences.
Please join us for a night of 16mm Hand Painted films by Stan Brakhage.
We will be screening:
Garden of Earthly Delights, Stately Mansions Did Decree,Thigh Line Lyre Triangular, The Dante Quartet, Delicacies of Molten Horror Synapse, Occam's Thread, and Yggdrasill Whose Roots Are Stars in the Human Mind.
$7 general; $5 students and seniors