New Takahiko Iimura DVDs for Sale
Posted January 28th, 2013 in Announcements, New Acquisitions, New DVDs, News / Events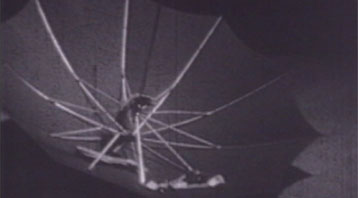 Still from Iimura's Early Film Poems
New DVDs from Takahiko Iimura now for sale
The following DVDs are now available for purchase from Canyon Cinema:
Sky and Ground
Sky and ground which was cut off momentarily / A camera wanders seeking its own shadow / The images which explore the limit / of solitude in New York / A mythological verbal space in which / snakes and birds are intermingled / A unique world where these images / and words meet. (T.I)
Early Film Poems
I made these six short films during a decade of 1962 through 1971, the first 10 years of my filmmaking though the order in the DVD goes backward from 1971 to 1962. Besides this collection I have already published another package of the films made in the 1960 "60s Experiments" consisted of four films made during 1962-64. The films of this new collection have not shown much during past decades and myself re-discovered lately these ones as a sort of "film poem." "Film poem" is a term used in the 1960 for experimental film burrowing from literature field. It means non-narrative and short form mostly. Also it often meant lyrical as well though not necessarily so. In this collection it starts from lyrical "The Pacific Ocean"(1971) and ends up not lyrical, "DADA62" which is descriptive and often metaphorical at the same time. Between them there are varied sense of poem.(T.I)
On Duration in Film
"I asked John Cage about his piece 3 Minutes 44 seconds(1952),discussing the conceptual title of the piece. Time itself becomes thetitle of the piece. John said that it's not just the time but also a space, and I responded by discussing the Japanese concept of ma, which is a concept that construes time and space as inextricably linked.I also made a piece called 2 Minutes 46 Seconds 16 Frames (100 feet), made in 1972, which was inspired by his piece.In the beginning, I chronologically wrote down the numbers one to twenty-four on each frame for 100 feet of film.Then I chronologically wrote down the numbers one to sixty, but thistime every second (every 24 frames),and did this twice. It was an attempt to show that time is also distance, especially with film." -Takahiko IImura, from the interview by Julian Ross, 2010
Writing With Light: White Calligraphy
In White Calligraphy, Re-Read, Takahiko Iimura returns to his early work. White Calligraphy which he originally made in 1967 by scratching characters from 'Kojiki', an early Japanese text, into the frames of 16mm black leader. In this re-reading of the illegible work the film is slowed down and briefly arrested at?random using digital processing while suddenly legible words are voiced by the artist in an accompanying soundtrack. Part translation (not only between Japanese and English but between media languages) part abstract interplay of picture sound and word.
For more information about Iimura and to rent or purchase his films…