Canyon Cinema welcomes Jodie Mack to the collection
Posted November 16th, 2017 in New Acquisitions, New Films, News / Events

Canyon Cinema is thrilled to announce the addition of fifteen films by Jodie Mack to the catalog.
Jodie Mack is an experimental animator who received her MFA in film, video, and new media from The School of the Art Institute of Chicago in 2007. Combining the formal techniques and structures of abstract/absolute animation with those of cinematic genres, her handmade films use collage to explore the relationship between graphic cinema and storytelling, the tension between form and meaning. Musical documentary or stroboscopic archive: her films study domestic and recycled materials to illuminate the elements shared between fine-art abstraction and mass-produced graphic design. The works unleash the kinetic energy of overlooked and wasted objects and question the role of decoration in daily life.
Named one of Filmmaker Magazine's 2014 "25 New Faces to Watch" and one of the Yerba Buena Center for the Arts' YBCA 100 in 2015, she is an Associate Professor of Animation at Dartmouth College. She is a 2017/18 Film Study Center Fellow and Roberta and David Logie Fellow at the Radcliffe Institute for Advanced Study at Harvard University.
Something Between Us (2015 | 9.5 minutes | COLOR | SOUND)
A choreographed motion study for twinkling trinkets: costume jewelry and natural wonders join forces to perform plastic pirouettes, dancing a luminous lament until the tide comes in.
Razzle Dazzle (2014 | 5 minutes | COLOR | SILENT)
Tacky threads luminesce at a firefly's pace, twinkling through remnants of chintzy opulence and gaudy glamour prestissimo brilliante.
Blanket Statement #2: All or Nothing (2013 | 3 minutes | COLOR | SOUND)
A battle of extreme extremes.
Dusty Stacks of Mom: The Poster Project (2013 | 41 minutes | COLOR | SOUND)
Interweaving the forms of personal filmmaking, abstract animation, and the rock opera, this animated musical documentary examines the rise and fall of a nearly-defunct poster and postcard wholesale business; the changing role of physical objects and virtual data in commerce; and the division (or lack of) between abstraction in fine art and psychedelic kitsch. Using alternate lyrics as voice over narration, the piece adopts the form of a popular rock album reinterpreted as a cine-performance.
Glistening Thrills (2013 | 8 minutes | COLOR | SOUND)
A shiny otherworld of holographic reverie pairs dollar store gift bags and haunting resound, unfolding an effervescent melancholy in three parts. Featuring compositions for bowed vibraphone by Elliot Cole.
Let Your Light Shine (2013 | 3 minutes | COLOR | SOUND)
A spectacle for prismatic spectacles. Handmade optical polyrhythms and a thousand rainbows explore the grating equation.
The Future is Bright (2011 | 3 minutes | COLOR | SOUND)
'Tis a rhyme for your lip
And a song for your heart
To sing it whenever
The world falls apart
Posthaste Perennial Pattern (2010 | 3 minutes | COLOR | SOUND)
Rapid-fire florals and morning bird songs bridge interior and exterior, design and nature.
Unsubscribe #1: Special Offer Inside (2010 | 4.5 minutes | COLOR | SOUND)
A flurry of security envelopes casts spells on the screen – cello by Christy LeMaster and Traci Jo Partin
Unsubscribe #2: All Eyes on the Silver Screen (2010 | 2.5 minutes | COLOR | SILENT)
Everybody's watching…
Unsubscribe #3: Glitch Envy (2010 | 5.5 minutes | COLOR | SOUND)
Junk mail detritus forms a handicraft salute to new media.
Unsubscribe #4: The Saddest Song in the World (2010 | 2.5 minutes | COLOR | SOUND)
…broken-hearted and mashed up.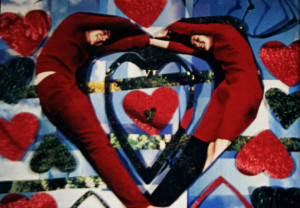 Yard Work is Hard Work (2008 | 28 minutes | COLOR | SOUND)
A musical that explores, in glorious color and song, the simultaneous disillusionment and hope of eternal love in the face of an economic crisis.
Lilly (2007 | 6 minutes | COLOR | SOUND)
Animated photo-negatives illustrate a WWII tragedy.
A Joy (2005 | 3 minutes | COLOR | SOUND)
A collaboration with Four Tet for Everything Ecstatic (Domino, 2005). Direct animation with stained-glass contact paper, ink, and acetate.
Mack's 16mm films have screened at a variety of venues including the Ann Arbor Film Festival, Edinburgh International Film Festival, Images Festival, Projections at the New York Film Festival, and the Viennale. She has presented solo programs at the 25FPS Festival, Anthology Film Archives, BFI London Film Festival, Harvard Film Archive, National Gallery of Art, REDCAT, International Film Festival Rotterdam, Shenzhen Independent Animation Biennale, and Wexner Center for the Arts among others. Her work has been featured in publications including Artforum, Cinema Scope, The New York Times, and Senses of Cinema.