Celebrating Jonathan Schwartz
Posted February 15th, 2019 in Announcements, New Acquisitions, New Films, News / Events

The filmmaker Jonathan Schwartz passed away in October 2018, leaving behind a remarkable and intimate body of work that registers the sorrow, love, despair, and exultation of lived existence. Canyon Cinema will distribute all of Schwartz's work, ensuring that his gestural, evanescent and deeply necessary works will continue to find new audiences. To see a complete list of the work Canyon currently distributes, click here.
A Leaf is the Sea is a Theater (2017 | 17 minutes | COLOR | SOUND)
'Facts are perceptions of surfaces.'
– Susan Howe
The Crack Up (2017 | 18 minutes | COLOR | SOUND)
"The ability to hold two opposed ideas in the mind at the same time, and still retain the ability to function. One should, for example, be able to see that things are hopeless and yet be determined to make them otherwise." (F. Scott Fitzgerald: The Crack-Up, 1936)
A Mystery Inside of a Fact ( 2016 | 17 minutes | COLOR | SOUND)
A Mystery Inside of a Fact's sounds and images rise from fathomless depths. The film was shot in India, but its subjects are unmoored from ethnography. Low-angle shots of a coxswain set the course for the film: its unseen current and dark swells. A woman's voice reflects on the elephant's capacity for self-awareness, suffering, and suicide, while superimpositions picture the animal as a wandering soul. Fifteen years ago, Schwartz was in India recording sound for Kolkata (2001), a miraculous actualité film made by Mark LaPore, a beloved filmmaker and teacher who ended his own life in 2005. That film climaxes with a breathtaking tracking shot through the city's streets, a river of life punctured by flashes of self-consciousness, but Schwartz's camera stays to the side of the road. A boy flashes a peace sign–cut. Another dances in a darkened room–cut. The soundtrack is someplace else: every shot an interior, no matter the setting. Vashti Bunyan's "I Don't Know What Love Is" finally emboldens the camera to take cover in a couple's embrace. Bunyan's demo, recorded when she was in her early twenties, breaks its own heart at the thought of a lover's inevitable departure. Schwartz approaches it from the other side of loss. The logic by which A Mystery Inside of a Fact arrives at this tender coda remains obscure, but its necessity shines through. (Max Goldberg)
Winter Beyond Winter (2016 | 11 minutes | COLOR | SOUND)
Winter Beyond Winter (2016) confirms his gift for lyrically transposing what's close at hand, in this case drawing a reverie of fatherhood from the short, sharp days of New England winter. The camera moves from laden trees to dazzled earth while on the soundtrack a boy reads from Cormac McCarthy's The Road. How strange it is to hear this text in the child's slightly bored voice, innocent of the narration's buried heartbreak. From here we follow an older man carrying skates and a boom mic into the woods. He turns a few elegant arcs around a small pond, the camera watching from the side before shaking off its melancholy and taking to the ice. One skater holds the image, the other the sound; the shot is their union. As Martin Buber wrote, "All real living is meeting." – Max Goldberg
A Set of Miniatures (2014 | 9 minutes | COLOR | SOUND)
a kind of quiet situated amid the in between of ascending and descending. it seems hard to land and when this happens something else might disappear. an aging process located in the peonies blooming and in the early summer river and in the light that falls across playful bodies. a certain worry enveloped in the covering of the ground, illuminated around a face, light on something ferocious, touch upon something gentle. – JS
Animals Moving to the Sound of Drums (2013 | 8 minutes | COLOR | SOUND)
That fall it was not intentional to have a Galway Kinnell book on the table near where the caterpillar in the doorway, feeding on our offerings, became the butterfly, feeding on honey water, staying in our house until we let it go. Or it was not known about the deer in Putney or that the baby birds in the raspberry bushes would cry to us in summer. A beloved, old friend once visited Vermont to do some work for Galway Kinnell and she described a stone table in the field where they ate meals in the afternoon — it sounded like a song and so I looked at the book and from Little Sleep's-Head Sprouting Hair in the Moonlight here is that line: "The still undanced cadence of vanishing." – JS
Bat El Drinking Water and Other Signs (2013 | 13 minutes | COLOR | SOUND)
(Maybe) of finding neutral signs in a non-neutral place while tension sits, increases, is shared, builds, or possibly lessens–or maybe is placed elsewhere for a while. Some birds move easily across, from above. You can hear them all over and the breeze that follows feels important. It comes when it wants, breaks up a heat, pauses something, and interrupts without being seen. – JS
If the War Continues (2012 | 5 minutes | COLOR | SOUND)
"and before I could be noticed again and taken to task, I spoke to the tiny blessed star within me, shut off my heartbeat, made my body disappear into the shadow of a bush, and continued my previous voyage without thinking about returning home ever again." -H.Hesse
Happy Birthday (2010 | 10 minutes | COLOR | SOUND)
…is a celebration of Schwartz's son's days since his birth. Its lyricism manages to address a feeling of nostalgia for the filmmaker's own childhood. Both darkness and light already confront the early steps of the infant, yet he advances entranced and unafraid–he is a ski jumper through a universe of legacies. Here, sounds of nature and of vinyl records, the inside and outside world, play one after another in a manner surprisingly close to harmony. Chosen by Rutkoff as the program's final piece, its flip side, athletic jumpers here cross the frame in reverse direction, following F. Scott Fitzgerald's most famous take on life: "so we beat on, boats against the current, borne back ceaselessly into the past." – Monica Saviron
New Year Sun (2010 | 3 minutes | COLOR | SOUND)
…in which Schwartz approaches light traveling through water in all its forms. His macro lens strives to get closer to the essence, to the transparency of things, and yet, the tenebrous and doomed cry of a church's bell, and the ascending, unstoppable pitch that accompany the images end up close to the sound of a derailed train–and the unfocused, unclear vision that comes with it. – Monica Saviron
90 Years (2008 | 3 minutes | COLOR | SOUND)
…refers to Schwartz's grandfather-in-law's age during the making of the film–an anniversary celebrated with the gift of piloting a U.S. army light aircraft, the kind he used to maneuver in the Second World War. While he rises and falls, watched by the impassive but attentive look of a woman who could be his wife, he is the protagonist of a flight into the past. Again, there is tension emphasized by an impending sound in crescendo, this time the one of the jet engine. This jump into the void is a recurrent creative preoccupation that might refer to distance, wounds, and risks. – Monica Saviron
In a Year With 13 Deaths (2008 | 3 minutes | COLOR | SOUND)
…a film structured by the directly recorded cyclic sound of a needle on the silent track of a vinyl album. The picture from the title, and the subsequent mirror images, lightly shake and abruptly jump in a tactile movement that resembles the pulse of the heart, sizing memories into the present. Light painting and nature imagery are captured in 13 shots of different points of luminescence, on the 13th anniversary of Schwartz's mother's passing, and as a homage to Rainer Werner Fassbinder's personal In a Year with Thirteen Moons (1978). In this film, Fassbinder reacts to his lover Armin Meier's suicide by telling the story of Elvira, who visits some of the important places and people of her life before ending it all. As the circular sound repeats itself, Schwartz's film also remains unended–he seems to know that these motifs are not resolved, they are not behind, but below consciousness, and he will not sign off with his name and year, as he does with the rest of his work. – Monica Saviron
Nothing is Over Nothing (2008 | 16 minutes | COLOR | SOUND)
Schwartz scrutinizes the city and its inhabitants, sometimes from a very close vantage, other times from afar, but always with a feeling of respect and belonging. The audio recordings are sometimes suddenly interrupted, as the images are separated by a few seconds of black. These silences incorporate into the film a Beckettian awareness of the ungraspable, the unnamable, of the tension between sharpness and blurriness, revealing and concealing, restraining and releasing. The other is and will always be an intimate stranger, and the camera is there to come to terms with this reality.
For a Winter (2007 | 3 minutes | COLOR | SOUND)
…the camera remains static to capture the accelerated movements, shot frame-by-frame, of ice skaters in a sunny winter morning. They are not portrayed as living things–they don't have the ability to speak, and they look like robots from another planet whose language is the sound of sharp razors on thick ice. They may very well be ghosts, and less alive than the figures of nature in an old book. – Monica Saviron
The Wedding Present (2007 | 3 minutes | COLOR | SOUND)
…is an ironically dark response to its title. It pictures an oversaturated, white and blue stop motion animation of the double image of a man jumping into a river, holding his nose before the final splash. A bug appears for less than a second, making an almost subliminal connection. The act of falling becomes a figurative abstraction, while the entire image gets transformed into dark blue obscurity. Schwartz, on a note of likewise dark humor, adds the score from Twin Peaks as covered by the British band The Wedding Present. – Monica Saviron
For Them Ending (2005 | 3 minutes | COLOR | SOUND)
…a poem made of imagery from a gardening volume, a book of flower prints, and the sound of a firework display. The images of the colored flowers, when added to the sound of pyrotechnics, become a graphic representation of exploding buoyancy. Like in a Lewis Klahr film, the images appear to collage a story-driven narration. There is motion created by the succession of cuts, and by the hand-handled camera movements so essential to Schwartz's style–allowing a non-aggressive, handcrafted, and detail-oriented approach to the world. Movement is more essential than any possible tale. The camera follows the shape of printed instructions, drawing verses in the air. The vivid texture and colors of these images transform the ink into trails of meaning, ways to translate inner subtleties into corporeal nature. – Monica Saviron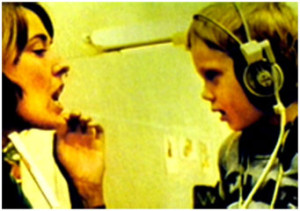 Pre-Hibernation News (2005 | 6 minutes | COLOR | SOUND)
"hit the slopes with colorful exaggerations, take a long sleep, and hope to wake up without an anxious yawn." – JS
The Mac Recordings (2004 | 15 minutes | COLOR | SOUND)
Den of Tigers (2002 | 19 minutes | COLOR | SOUND)
Den of Tigers (2002), by Jonathan Schwartz, lyrically examined the subtle textures of daily life in West Bengal, India. There you could see ankles lifting up and back down into a flooded street, a small ancient woman pushing on the arm of a water pump, and the hypnotic swinging of a young tightrope walkers hips, the image as taut as the narrow rope pressed to her feet. – Genevieve Yue