Now available: seventeen exhibition files from Jon Behrens
Posted June 12th, 2019 in New Acquisitions, News / Events

Jon Behrens is a Seattle-based filmmaker, curator, photographer, sound manipulator and teacher. Seventeen of his films, produced between 1993 and 2018, are now available to rent as digital files from Canyon Cinema.
Light Coins (2018 | 4 minutes | COLOR | SOUND)
This film is a collaboration between myself, Caryn Cline and Luke Sieczek. We made this film using a matte box. We used three different coin sized mattes, and we took turns exposing them.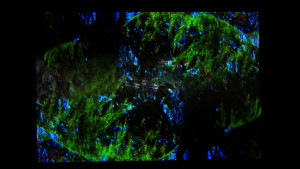 A Film Containing Trees (2017 | 3 minutes | COLOR | SOUND)
This film was the first film I shot on my newly acquired Arriflex S camera. I shot a full 100ft roll of 7207 from start to finish without stopping. I fixed my camera onto the trees around my lower Queen Anne area home in Seattle from my deck, I then backed up the film to beginning and re exposed the film from another angle. I passed my hand in front of the lens during the second exposure to blend the two images together. The sound for this film was created from industrial sounds I recorded also in the same area and manipulated with effects.
An Optical Printer Duet (2017 | 3 minutes | COLOR | SOUND)
I did this collaboration with filmmaker Caryn Cline. Two filmmakers, two direct animation technics, two optical printers one roll of 16mm film.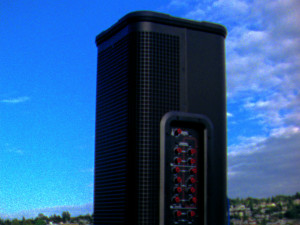 Modular on the Spot (2017 | 3 minutes | COLOR | SOUND)
I shot this little film summer 2016 at Gas Works Park. I have always loved synthesizers and they have played a big roll in my filmmaking. I documented that day with my newly acquired Arriflex camera, no editing just a camera roll.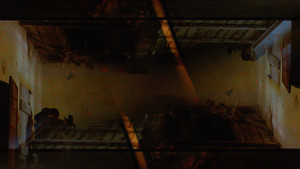 Recycled Realizations (2017 | 4 minutes | COLOR | SOUND)
I put this film together from found 35mm trailers from mainstream hollywood movies from the mid 1990's. The films were painted, scratched, manipulated and optically printed.
A City in Four Parts (2016 | 6 minutes | COLOR | SOUND)
This is made up from a single 100ft roll of film. I fixed my camera on the city skyline and began to shoot, I shot the entire roll in one take. I then back winded the film to beginning and shot again and blended the two exposures with my hand.
An Afternoon at Oyster Bay (2016 | 6 minutes | COLOR | SOUND)
This film was made from hand painted, manipulated optically printed of a family's 16mm home movies during their 1924 summer vacation to Oyster Bay.
Painted Memories of Forgotten Times (2016 | 3 minutes | COLOR | SOUND)
This film is entirely made from hand painted sections of clear 16mm film, along with hand manipulated sections of found film. The footage was then re-photographed on a JK Optical printer I also used a variety of different light gels, to create this cinema poem. I also created the sound design.
Two Roll Camera Roll (2016 | 4 minutes | COLOR | SOUND)
This was film was shot on a train trip down to Portland Oregon in the Summer of 2016 with one of my Bolex's . I was using film from a large supply of 7222 double X negative donated to me from a friend that became outdated in 1972. I shot the film normal and processed it normal, the film turned out to be very grainy which worked well. I then rephotographed everything on my optical printer. The sound for the film was made of sound I recorded of the train.
Meandering (2015 | 6 minutes | COLOR | SOUND)
Kirsten McCory is the mending woman who is meandering through this hand painted and optically printed film.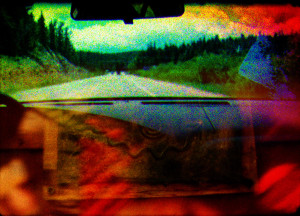 The Colors of Boulder in the Summer (2015 | 6 minutes | COLOR | SOUND)
In the summer of 1997 I went to Boulder Colorado for a holiday. During this time we attended some poetry things at Naropa and and some cinematic things at the University of Colorado. I had my bolex with me the whole time and I shot little bursts of images along the way. The film sat in its can on a shelf in my studio until the early part of 2014 when I began to experiment with the images on my optical printer.
Alternative Views (2014 | 76 minutes | COLOR | SOUND)
This film is made from one single 10 min piece of film shot from the 32 floor of the Russle Investment Building in Seattle Washington. I cut the section of film together 8 times with each section being given a different treatment. Each section of film represents a different view. This film can also be viewed as an installation.
A Beginning a Middle and an End (2013 | 6 minutes | COLOR | SOUND)
Reconstituted found footage hand painted optically printed wonder, with a begging a middle and an end.
Seven Minutes in May (1996 | 2 minutes | COLOR | SILENT)
I made this film using friend Kitty the fire eater doing her fire eating routine at the Pike St. Cinema. I then took all the footage and cut it up into section not more than 11inches long. I then added footage that I had taken earlier of an organic nature and repeated the process. I then took all the footage and put it into a garbage bag and cut it all back together again at random. This film was inspired by the early cut up poems of WM.S Burroughs. The film is not 7 minutes long and was not shot in May. I wanted the title to be done the same way, I cut up a page out of a magazine and pasted a few words together and came up with SEVEN MINUTES IN MAY.
The Movement of Light at Night (1996 | 5 minutes | COLOR | SOUND)
This was the first film that I collaborated with fellow filmmaker and friend Steve Creson. We each shot a 100ft roll of film and we did not know what each other were shooting. The only thing that our footage had in common was the fact that it was all shot in color and at night. At the time that we did this we were each experimenting with new techniques of our own. This took place on a nice summer evening in July of 1996. This film sparked the beginning of a very prolific partnership. Film score by RUBATO.
Liquid (1993 | 3.5 minutes | B&W | SOUND)
I made this film with the help of friend Timmi Harrop she graced the screen in this liquid like atmospheric industrial performance piece. Multiple exposures, water, and weird underwater cinematography shots that create the environment drowning the viewer in a symphony of sight and sound.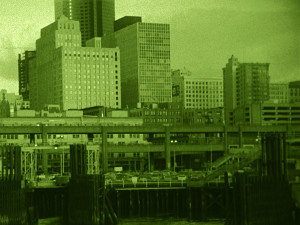 Exposures (1989 | 12 minutes | B&W | SOUND)
Spoken word by Kelley K. Vance sound by Mary Lake – I made this film in the early months of 1989. I was experimenting with my newly purchased Bolex camera. This film is a study in urban landscapes and multiple exposures. All of the effects in this film were created in camera. This was the first film in my urban landscape series.