New consignment DVDs from Re:Voir
Posted June 18th, 2019 in New Acquisitions, New DVDs, News / Events

Re:Voir publishes beautiful DVD editions of classic and contemporary experimental cinema, with the goal of introducing the broadest possible audience to rare, under-seen, and important artist-made films. Canyon Cinema is an American distributor of Re:Voir releases, and we are pleased to share work by Patrick Bokanowski, Stephen Dwoskin, Anne Maregiano, François Miron, Suzan Pitt, Jürgen Reble, Hans Richter, Mike Kuchar, and Robert Todd for individual and institutional sale.
Courts-Métrages (Patrick Bokanowski | 1972-2018 | 126 minutes | COLOR | SOUND)
" A work of experimentation? Sure – but in which beauty and sensitivity, humor and anxiety creep in as Patrick Bokanowski recomposes, in his own way, these primordial elements, as one might rebuild a figure from the remnants of the exploded bits of an academic statue."
–Jean-Michel Frodon, Le Monde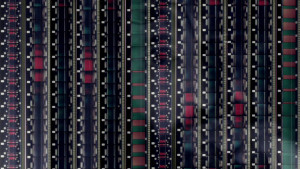 Paul Sharits (François Miron | 2016 | 85 minutes | COLOR | SOUND)
The first feature-length documentary about Sharits, François Miron's film is both a perceptive exploration of his oeuvre by a filmmaker who has studied Sharits' work in depth, and a revealing account of his often troubled life. Featuring interviews and footage of Sharits along with new interviews with other filmmakers, scholars and family members, the documentary sketches a portrait of a tormented, deeply romantic artist, always courting disaster but also cursed by an inherited mental condition. PAUL SHARITS is both a terrific introduction to Sharits' life and work, and, for those with a longstanding interest in the filmmaker, a treasure trove of rare footage, illuminating commentary and archival materials.
Interior Landscape (Robert Todd | 2005-2013 | 63 minutes | COLOR | SOUND)
"When I film, I enter into a dialogue with the world, directly. I present myself (with camera) openly to the inhabited space surrounding me, a space I choose to join with and inhabit dynamically, seeing it and living within it as it is, not as I would dream or wish it to be. The world approaches me as I approach it. It shifts and changes not apart from me, but inclusive of my presence and my motions within it. My gestures, my vision, and the questions I find myself asking, are shaped by that which is immediately present for me within this world that I find myself a part of: I am led by it, as a hunter seeking treasure, as a dancer seeking contact, compelled by certain attractions (of form, of light, of motion, of tone, of substance) that the world provides and the camera interprets in heightened form, as I move through it and as it moves with and around me."
-Robert Todd
Age Is… (Steve Dwoskin | 2012 | 75 minutes | COLOR | SOUND)
"AGE IS… is a new feature meditating on the subjective experience and cultural concepts of ageing. The film is an ode to the texture, the beauty, the singularity of aging faces and silhouettes, a hypnotic poem in the 'Dwoskinian' meaning of the term which is long observations of very tiny details. A gesture, a pause, a look, a moment. Throughout his films intimacy has always played the leading role and this is also true for AGE IS…, all the faces being those of close friends, of their relatives and sometimes even of Stephen himself."
-House on Fire
Animated Films (Suzan Pitt | 1979-2012 | 119 minutes | COLOR | SOUND)
"Pitt's work is like a dream. Things exist out of proportion, shapes shift, characters emerge and then disappear. But like any dream, they also exist with a backbone of reality, and in every way celebrate the things that make life such a mixed bag of joy and sorrow. They are amazing works of art, and for any fan of animation or unique cinematic experiences, they are not to be missed."
-Steven Snyder, TimeOut
Charlemagne Palestine: The Golden Sound (Anne Maregiano | 2010 | 70 minutes | COLOR | SOUND)
"Born in New York City, composer, performer, and visual artist Charlemagne Palestine was a contemporary of Steve Reich and Phillip Glass in the avantgarde classical music scene of the 1960s and 1970s. On stages filled with his own home-made stuffed animals, Palestine performs his trance-like strumming music. He is often referred to as a minimal composer, but rejects that in favour of "maximalism". Anne Maregiano's documentary about Palestine, The Golden Sound (2011), allows the artist to tell his own story while putting his music and performance, in long, unedited takes, at the centre of the film… "
-Michael Garrad for CLOSE UP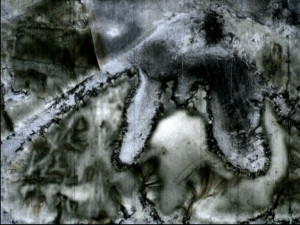 Das Goldene Tor (The Golden Door) (Jürgen Reble | 1992 | 54 minutes | COLOR | SOUND)
"The basic idea is that it is impossible to fix film. Film is something, which is always in a state of flux…The images, 'real' in the beginning, gradually disintegrate and the gelatine layer, where the chemicals are embedded, dissolves. All that's left in the end is the 'raging of the elements.'"
-Jürgen Reble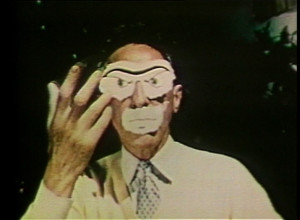 Give Chance a Chance: A Portrait of Hans Richter (1973 | 28 minutes | COLOR | SOUND)
The cinematographic universe of Dada is a crossroads of iconographic subversion and abstraction, formal geometry and corporal eroticism, bathed in a general indifference to 'making sense' — unless it is making sense of its own deconstruction.
-Philippe-Alain Michaud
Sins of the Fleshapoids (Mike Kuchar | 1966 | 97 minutes | COLOR | SOUND)
Along with Anger's Scorpio Rising and Warhol's Chelsea Girls, Mike Kuchar's Sins of the Fleshapoids remains one of the most influential films of the '60s American Underground. Mike and his brother George (who co-wrote Fleshapoids), were the godfathers of bargain basement cinema, pioneering a hilariously campy, lurid style between Ed Wood exploitation and Douglas Sirk melodrama.