Microcosmic Cinema: A Benefit for Canyon Cinema
Posted August 10th, 2019 in Events and Screenings, News / Events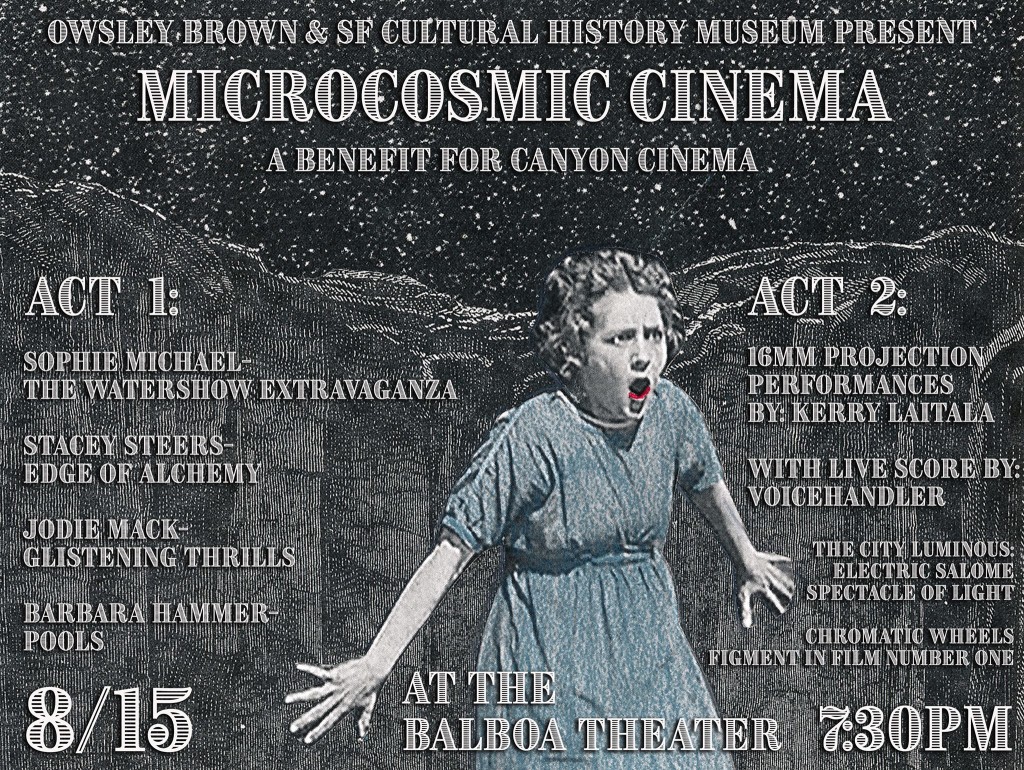 Microcosmic Cinema: A Benefit for Canyon Cinema
Thursday, August 15, 2019 – 7:30
The Balboa Theatre, Owsley Brown & S.F. Cultural History Museum present Microcosmic Cinema: A Benefit For Canyon Cinema featuring 16mm projector performances by Kerry Laitala who will be presenting four works from her City Luminous series. These performances pay homage and celebrate the lighting design pioneers that gathered just over a century ago to illuminate the fabulous Jewel City at the Panama-Pacific International Exposition – a 635-acre monument to impermanence constructed, and soon after, demolished in San Francisco's Marina district.
An event in two acts, the first includes a selection of works featuring kaleidoscopic color, surreal stories and extraordinary places by Jodie Mack, Barbara Hammer and Barbara Klutinis, Stacey Steers and Sophie Michael. The second, single and dual 16mm projector performances by Laitala with live score by Voicehandler.
Act One:
The short films featured in the opening act compliment the themes and style of Laitala's performances through the exploration of exceptional spaces, color and refracted light, archival footage and found materials.  The Watershow Extravaganza (2016 – 16mm) by Sophie Michael records the choreographed neon water and light show attraction at Watermouth Castle in North Devon, England built for the 1951 Festival of Britain. Mary Pickford and Janet Gaynor are seamlessly appropriated from their early silent films, and cast into a surreal epic with an upending of the Frankenstein story and a contemporary undercurrent of hive collapse in Stacey Steers' Edge of Alchemy (2017 – HD file). Jodie Mack's Glistening Thrills (2013 – 16mm) presents a shiny otherworld of holographic reverie pairing dollar store gift bags and haunting resound, unfolding an effervescent melancholy. Pools (1981 – 16mm, new print restored by the Academy Film Archive) by Barbara Hammer and Barbara Klutinis is a pictorially and technically impressive sampling of spectacular swimming pools at W.R. Hearst's San Simeon Castle.
The Watershow Extravaganza (Sophie Michael, 2016, 10.5 minutes, 16mm)
Edge of Alchemy (Stacey Steers, 2017,19 minutes, HD)
Glistening Thrills (Jodie Mack, 2013, 8 minutes, 16mm)
Pools (Barbara Hammer and Barbara Klutinis, 1981, 8 minutes, 16mm – new print restored by the Academy Film Archive)
Running time: 45.5 minutes
Act Two:
Laitala will be presenting four works from her City Luminous series. These include The City Luminous: Spectacle of Light, which received an audience choice award at the 2015 Crossroads Film Festival presented by SF Cinematheque, The City Luminous: Electric Salome, a new staging of Chromatic Wheels, & the San Francisco premiere of her brand-new Figments in Film, Number One. All of these performances will feature live sound from Oakland's experimental music duo extraordinaire Voicehandler, made up of Jacob Felix Heule and Danishta Rivero.
The City Luminous: Spectacle of Light- dual-16mm projector performance, 12 minutes 2015
In 1915 Walter D'Arcy Ryan induced explosions of color over the night sky as part of the Pan-Pacific International Exposition (PPIE), a presentation the likes of which had never been seen prior, and which became the model for light displays at future World's Fairs and illumination showcases. One hundred years later, Kerry Laitala pays tribute to this historical moment with a dual-projector performance involving archival images of silhouetted spectators of the 1939 New York World's Fair sharing screen space with sinuous light shapes swirling, twinkling and bouncing across the frame like unbound forces of energy. The City Luminous: Spectacle of Light will be accompanied by a live soundtrack by Voicehandler (Jacob Felix Heule and Danishta Rivero), who manipulate sounds from various sources including a mechanical music box from Switzerland.
The City Luminous: Electric Salome – dual-16mm projector performance, 20 minutes, 2015
Loie Fuller was a major innovator in fin-de-siècle dance, costuming and theatrical lighting design. Her Serpentine Dances became hugely popular, inspired dozens of imitators, and are best known today through the early films shot by the likes of W.K.L. Dickson, Alice Guy Blache, Segundo de Chomon, Georges Melies and others. Towards the end of her career Fuller brought her troupe to San Francisco's PPIE, where they performed under the dome of the Palace of Fine Arts as a fundraiser to allow it to become the only major structure to be saved from destruction at the end of the fair. Laitala filmed San Francisco dancer Jenny Stulberg in the act of resurrecting Fuller's fluttering aura through her own choreographed interpretations. Then she reproduced Stulberg's image onto separate film strips which will rejoin together projected onto a phantom presence that brings a sculptural element into the proceedings. Voicehandler provides the sound.
Chromatic Wheels – 16mm 11 minutes, 2015
Pure shards of colorful light shimmers across the screen as the images are pulled through the projector like taffy in this abstract work that highlights the synthetic properties of the medium. Named among San Francisco Film Critics Circle member Jesse Hawthorne Ficks's favorite films seen in 2018. Shown with a new soundtrack by Voicehandler for the first time.
Figments in Film, Number One- – 16mm 8 minutes, 2019
Creation and destruction. Grandiosity and hubris. Glory and The Abyss. These are some of the themes explored in Figments in Film, Number One, which features images from the PPIE while the buildings were in the process of being destroyed. Viewers will be draped in a cloak of decay, rebirth and contemplation. Images were hand-processed, toned and tinted. San Francisco premiere!
The City Luminous Series, which encompasses the realms of installation, performance and photographic works was funded by a third Special Projects Grant from the Princess Grace Foundation, San Francisco Arts Commission Grant, California Historical Society, and Maurice Kanbar.
Running time: 51 minutes
Kerry Laitala is a media archaeologist whose work spans the territories of photography and expanded cinema performances, to 3D single channel videos and sculptural installation. Laitala's work synthesizes ideas and ephemera from the realms of science, history, and technology. An expert in optical printing and D.I.Y practices such as photogram and hand-processing techniques, she utilizes these methods (among others) to re-shape 'found' archival film materials into 16mm & 35mm handcrafted short films that embody and celebrate the phenomenon of lo-fi spectacle. Inspired by avant-garde filmmakers like Phil Solomon and Paul Sharits, her work conveys a similar connection to film materials, but with a more unhinged sense of decay. She investigates our shifting relationships with the natural world and the artifacts we introduce into it, whether through installation, photography, para-cinema, performance, kinetic sculpture, or single-channel forms. She teaches film at the San Francisco Art Institute as well as in small workshops held around the world.
This event was made possible through the generous support of the Owsley Brown III Philanthropic Foundation.
Tickets to Microcosmic Cinema: A Benefit for Canyon Cinema are $15.00, and can be purchased online at balboamovies.com.