Now Available on DVD: Paul Clipson – Landscape Dissolves: Selected Films, 2009-2016
Posted October 16th, 2020 in Announcements, New Acquisitions, New DVDs, News / Events

Now Available from Canyon Cinema! A DVD collection of 14 short films by the San Francisco cinema artist Paul Clipson. Co-produced by Re:Voir and Students of Decay.

Info: https://canyoncinema.com/catalog/film/?i=5303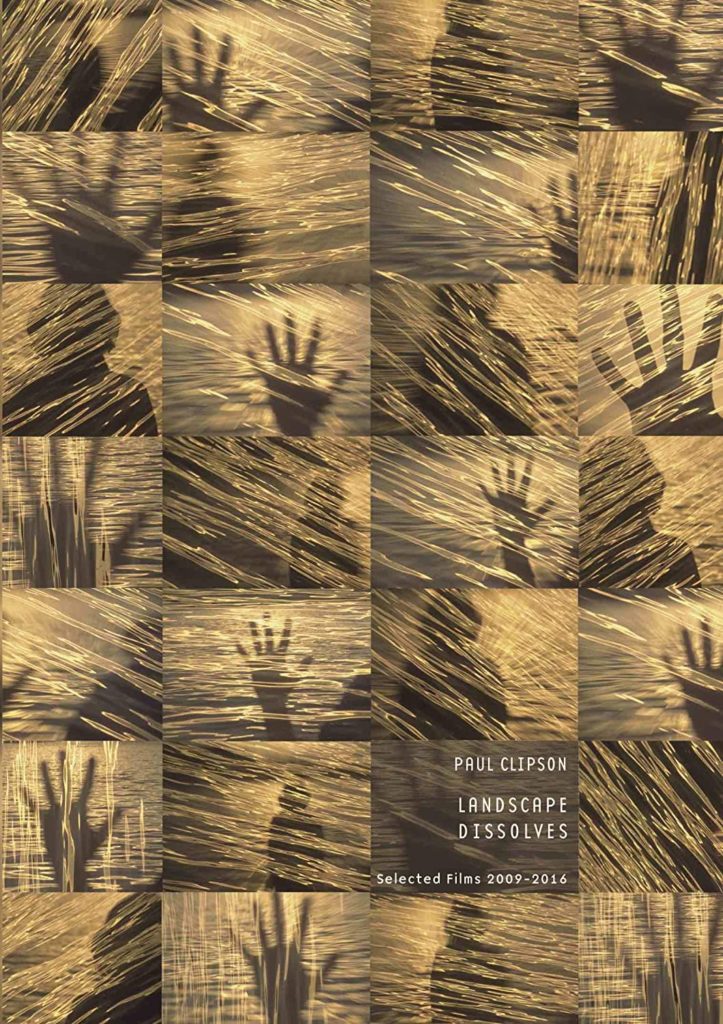 "[Paul Clipson's films] are a photo-chemical catalog of the visible world, charged with psychic energy, scored partly by chance, and imbued with a generosity of being."
– Otie Wheeler, MUBI Notebook

"Clipson's fillms are unique to the contemporary moment in their visual intensity, but also in their commitment to a realm beyond language, beyond the culture of 'information.' Clipson wants to deliver us knowledge of the world – real, discrete, actual things."
– Dan Browne, San Francisco Cinematheque

"Paul and I worked on this project for a little over a year before his passing. Deciding on a grouping of works that would constitute a 'Selected Films' proved no easy feat. The titling, selection and sequencing of films, and the images used for the jacket and booklet have been presented exactly as Paul wanted. It has been an honor to put together and realize this collection, which I believe captures something of the breadth, dynamism, poetry, and rare beauty of Paul's cinematic vision.
"This project would not be possible without the support of Yelena Soboleva and Anya Kamenskaya."
– Alex Cobb, February 2019

Films:
CHORUS (2009-2010, 7 min, music by Gregg Kowalsky)
LIGHT FROM THE MESA (2010, 7 min, music by Barn Owl)
ABSTEIGEND (2012, 7 min, music by Evan Caminiti)
LANDSCAPE DISSOLVES (2012, 6 min, music by Alex Cobb)
ORIGIN (2009-2012, 9 min, music by Che Chen)
PULSARS E QUASARS (2014, 4 min, music by Arp)
VOID REDUX (2013, 6 min, music by Barn Owl)
BRIGHT MIRROR (2013, 9 min, music by Jefre Cantu-Ledesma)
LIGHT YEAR (2013, 10 min, music by Tashi Wada)
DISPORTING WTH A SHADOW (2015, 4 min, music by Alex Cobb)
THE LIQUID CASKET / WILDERNESS OF MIRRORS (2014, 9 min, music by Lawrence English)
MADE OF AIR (2014, 11 min, music by Grouper)
LIGHTHOUSE (2015, 5 min, music by King Midas Sound/Fennesz)
FEELER (2016, 7 min, music by Sarah Davachi)

Includes booklet edited by Alex Cobb

Artists: Paul Clipson, Alex Cobb, Gregg Kowalsky, Barn Owl, Evan Caminiti, Che Chen, Arp, Jefre Cantu-Ledesma, Tashi Wada, Lawrence English, Grouper, King Midas Sound/Fennesz, Sarah Davachi

---