Big Joy Screening SEP 4th–TICKETS ON SALE NOW!
Posted August 17th, 2014 in Events and Screenings, News / Events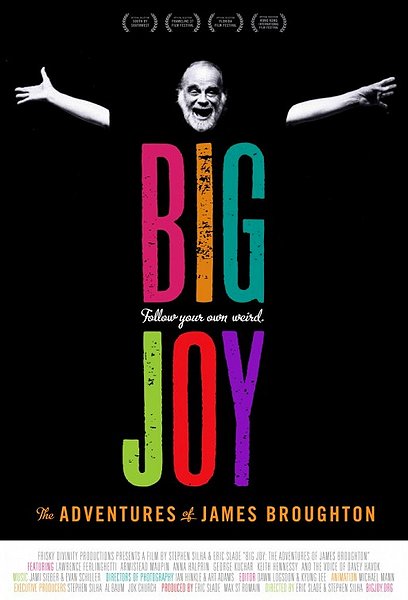 Join us on September 4th at 7:00 PM when we co-present Big Joy: The Adventures of James Broughton with our friends at The Roxie Theatre!
From Roxie's announcement:
"Big Joy serves as a chronicle of the iconoclastic life of gay poet, filmmaker, and spiritual visionary James Broughton, one of the defining voices of the sexual revolution. Broughton's groundbreaking artistic celebrations of sexuality and the body influenced the generation of the 1960s and 70s  to embrace life and 'follow [their] own weird.'
Emerging in the artistic renaissance of post-WWII San Francisco, this visionary and charismatic poet and filmmaker led a completely unconventional existence in his lifelong quest for creative artistry, sexual and spiritual love, and an evolved state of happiness. Big Joy is a celebratory mosaic of Broughton's deeply intertwined creative and personal lives, vividly depicted through his involvement with a wide array of artists, activists, and spiritual guides.
Directed by Eric Slade, Stephan Silha and Dawn Logsdon. USA 2013. Digital. 82 mins."
Big Joy is surely not to be missed, and given that we are offering a code to recieve 25% off your purchase of tickets, you have no reason to! Go to the Roxie site, enter code JOY25 at checkout, and prepare yourself for an unforgettable evening.