5/4/15 Canyon Cinema Salon, Next To You with Claire Bain
Posted May 2nd, 2015 in Announcements, Canyon Cinema Salon, Events and Screenings, News / Events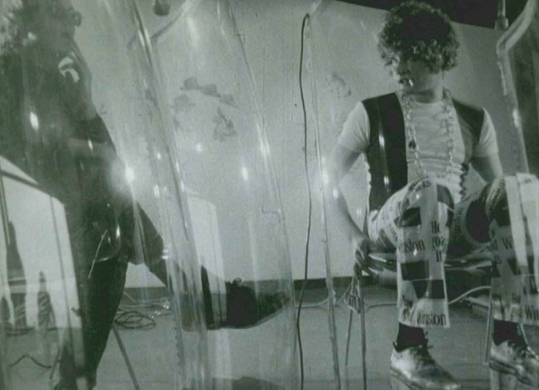 Please join Canyon Cinema on the evening of May 4th, 2015 at New Nothing Cinema for the next installment of our Spring 2015 Salon series. This month, artist and filmmaker Claire Bain will present a selection of 16mm films from Canyon's collection that function within systems of identity, representation, persona, and power. On her program, Bain says:
"These films demonstrate that dis/connection to one another via race, gender, sexuality, and/or desire is intrinsic to all human experience, and impacts the wholeness of being human. These matters are bound up in the overall existence of people, and they are not separated out in these films, but presented in balance. This provides a super powerful textual politic of humanity that is completely free of rhetoric. All three filmmakers use mastery of specific visual composition and sound to lay out the human imperative in ways only possible through the considered use of cinema."
The Canyon Cinema Salon Series is a FREE event hosted at New Nothing Cinema (located at 16 Sherman St, off Folsom between 6th and 7th in SOMA).
Program Notes:
Andy Warhol's Unfinished Symphony (1975) | Babeth | 26 minutes | B&W | Sound
Mayhem (1987) | Abigail Child | 20 minutes | B&W | Sound
Chronicles of a Lying Spirit by Kelly Gabron | Cauleen Smith | 1992 | 13 minutes | Color | Sound
ITSME | Claire Bain | 1986 | 2 minutes | Color | Silent
Found Out | Claire Bain | 1986 | 2 minutes | Color | Sound
For full program notes, see the official page HERE.
The Canyon Cinema Salon series is made possible with generous support from the George Lucas Family Foundation and The Owsley Brown III Philanthropic Foundation.