New Filmmaker: Mike Stoltz
Posted April 16th, 2018 in Announcements, New Acquisitions, New Films

We are pleased to welcome filmmaker Mike Stoltz to the Canyon catalog. Three of Stoltz's films made between 2013 and 2015 are now available.
With Pluses and Minuses (2013 | 5 minutes | COLOR | OPT)
A ground-less and boundless 16mm film in which a wall becomes a window to a swirling landscape.?
"Stoltz shakes and dislocates audio and image with volume and pitch variations, editing the 16mm film in camera, varying the focus and the shot length of every frame, shifting background and foreground, turning and spinning the camera hand-held positions, and allowing sequences of black that punctuate the image's algorithms. The filmmaker's dance transforms abstraction into personal experience. He is an active agent of the surrounding world, and of the opportunities that open and close before us."
-Mónica Savirón, LUMIERE Fall 2013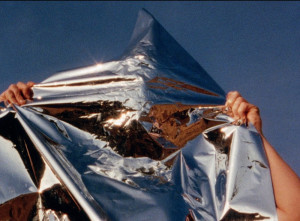 Under the Atmosphere (2014 | 15 minutes | COLOR | OPT)
Filmed on the Central Florida "Space Coast", site of NASA's launch pads. Dormant spacecraft, arcane text, activated landscape, and the surface of the image work towards a future-past shot reverse shot.
"Referring to the narrowness of the peninsula, they claimed it would not be able to withstand such a great explosion and would be blown to pieces the moment the cannon was fired. 'Then let it be blown to pieces' the Floridians replied."
Half Human, Half Vapor (2015 | 12 minutes | COLOR | OPT)
A mystic's sculpture garden amidst hurricane damage and property foreclosure.
This project began out of a fascination with a giant sculpture of a dragon attached to a Central Florida mansion. The property had recently been left to rot, held in lien by a bank. Hurricanes washed away the sculpture.
I learned about the artist who created this landmark, Lewis Vandercar (1913-1988), who began as a painter. His practice grew along with his notoriety for spell-casting and telepathy.
Inspired by Vandercar's interest in parallel possibility, I combined these images with text from local newspaper articles in a haunted-house film that both engages with and looks beyond the material world.