New filmmaker: Fern Silva
Posted April 30th, 2018 in Announcements, New Acquisitions, New Films, News / Events

New York-based filmmaker Fern Silva has joined the Canyon catalog. Six of his films are now available to rent.
Fern Silva (b. 1982, USA/Portugal) is an artist who primarily works in 16mm. His films consider methods of narrative, ethnographic, and documentary filmmaking as the starting point for structural experimentation. He has created a body of film, video, and projection work that has been screened and performed at various festivals, galleries, museums and cinematheques including the Toronto, Berlin, Locarno, Rotterdam, New York, London, Melbourne, and Hong Kong International Film Festivals, Anthology Film Archives, Gene Siskel Film Center, Cinemateca Boliviana, Museum of Art Lima, Brooklyn Academy of Music, Museum of Contemporary Art Chicago, New Museum, Greater New York at MOMA P.S.1, and Cinema du Reel at the Centre Georges Pompidou. He has organized and curated screenings at venues including the Nightingale Cinema, Gallery 400, and DINCA Vision Quest in Chicago. His work has been featured in publications including Film Comment, Cinema Scope, Filmmaker Magazine, Millennium, and Senses of Cinema. He studied art and cinema at the Massachusetts College of Art and Bard College. He is Visiting Faculty at Bennington College and is based in New York.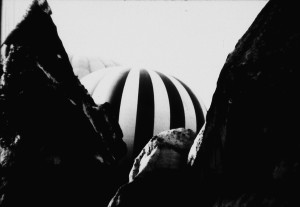 Passage Upon the Plume (2011 | 6.3 minutes | B&W | SILENT)
"Those who go thither, they return not again."
Plumes dust the arid land, east to west, shapeshifting
as they lift in ascension. Something lowers. An ark
ran aground where revolution took root: ropes raise
stones in baskets. Hearts heavier and lighter than the
feather, permitted passage. Tethered or freed, resting
from life or dawning anew. -Charity Coleman
Concrete Parlay (2012 | 18 minutes | COLOR | SOUND)
"Carried by the frenetic energy of a magic carpet, Concrete Parlay is a metaphysical flight that weaves among visual kernels of the anthropic and biological worlds. From prehistoric horseshoe crabs strewn among modern refuse, stoic pyramids foregrounded by golf course maintenance, mystic rituals evoking avian gestures, to contemporary political upheaval equalized by natural phenomena – the poetic equivalence among images transcends particular umwelten, as the disorienting whirl of the compass connotes the kinetic nature of existence." -Aily Nash
Tender Feet (2013 | 10 minutes | COLOR | SOUND)
Tender Feet was shot on the road in the southwest leading up to the not quite so cataclysmic and transformative events anticipated to take place around Dec. 21st 2012. As digits flipped on the odometer, so did the days in the Mayan calendar shedding light and darkness on charred forests, arid landscapes, falling stars, destructive vortexes, fortune telling traffic signs, and ticking time bombs…
"Do you know what the secret to life is… this… one thing, just one thing…" -Curly Washburn
Wayward Fronds (2014 | 13 minutes | COLOR | SOUND)
Mermaids flip a tale of twin detriments, domiciles cradle morph invaders, crocodile trails swallow two-legged twigs in a fecund mash of nature's outlaws… down in the Everglades.
Wayward Fronds references a series of historical events that helped shape the Florida Everglades today, while fictionalizing its geological future and its effects on both native and exotic inhabitants. Guided by recent talks in the Florida legislature to finally disburse billions of dollars in restoration funds, events in this film unfold by giving way to a future eco-flourished Everglades. Nature begins to take over, en-gulfs and tames civilization after centuries of attack, and even guides it into its mysterious aqueous depths, forcing humans to adapt and evolve to its surroundings.
Ride Like Lightning, Crash Like Thunder (2016 | 8.5 minutes | COLOR | SOUND)
Framed within the vision of the Hudson River School and the legend of Rip Van Winkle, Ride Like Lightning, Crash Like Thunder unfolds as a storm approaches on the horizon. An uncertain future is in store as the creeping hand of history disrupts nature and civility in the Hudson River regions of Upstate New York.
The Watchmen (2017 | 10 minutes | COLOR | SOUND)
In The Watchmen, pulsating orbs, panopticons, roadside rest stops, and subterranean labyrinths confront the scope of human consequences and the entanglement of our seeking bodies. Regressions in missing time, caught in the act of captivity, confined to the carceral and perpetuated by movie sets, television sets, and alien encounters at bay. The corporeal cycle of control revolves as steadily as the sight of those who watch from above.