Now available: five films from Jodie Mack
Posted December 1st, 2019 in New Acquisitions, New Films, News / Events

Jodie Mack is an experimental animator that combines the formal techniques and structures of abstract/absolute animation with those of cinematic genres. Her handmade films use collage to explore the relationship between graphic cinema and storytelling, the tension between form and meaning. Musical documentary or stroboscopic archive: her films study domestic and recycled materials to illuminate the elements shared between fine-art abstraction and mass-produced graphic design. The works unleash the kinetic energy of overlooked and wasted objects and question the role of decoration in daily life. Five of the artist's films are now available to rent from Canyon Cinema.
Rad Plaid (2010 | 6 minutes | COLOR | SOUND)

A series of chromatic intersections. Audience members form teams who respond to vertical lines by shouting "plaid" and to horizontal lines by shouting "rad". This approximation of the sound was recorded at the Anthology Film Archives in February, 2011.
Blanket Statement #1:Home is Where the Heart Is (2012 | 3 minutes | COLOR | SOUND)
Discordant dysfunction down to the nitty griddy.
Persian Pickles (2012 | 3 minutes | COLOR | SOUND)
A swimming study of paisley patterns traces this decorative motif from its origins in Persian weavings to appearances Irish quilting and American Counterculture. Extending on the stroboscopic tradition of anti-animation, this short material study fixates upon discarded materials to examine the decorative and its relationship to the cycles of industry and evolving modes of production.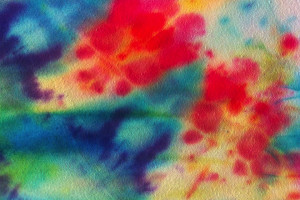 Undertone Overture (2013 | 10.5 minutes | COLOR | SOUND)

A study of tie dye swims out to the cosmos and back again.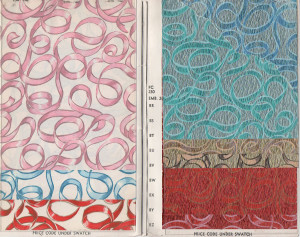 New Fancy Foils (2013 | 12.5 minutes | COLOR | SOUND)
Paper sample books discarded and dumpstered by long-gone businesses undergo a series of sequential experiments in pattern, rhythm, color, and text(ure). A call and response of flickering and lingering, this catalog of catalogs remembers a tactile economy.