3/14/2023 – Dispersed Renderings: A Salon with Patricia Ledesma Villon
Posted March 6th, 2023 in Announcements, Canyon Cinema Salon, Events and Screenings, News / Events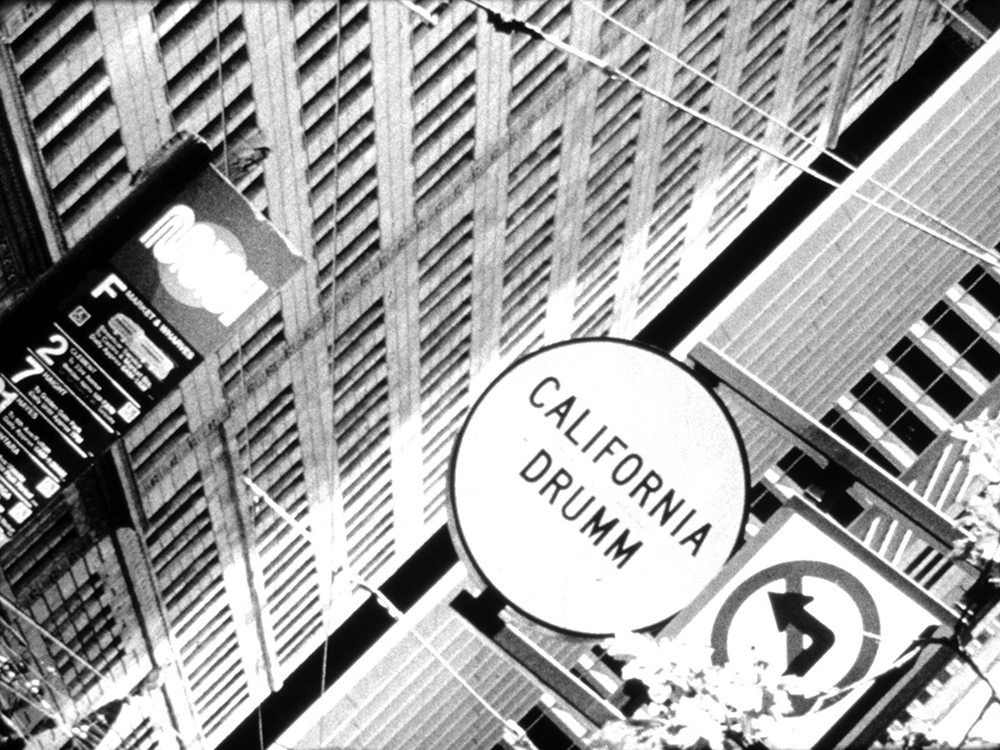 Dispersed Renderings:
A selection of Bay Area works from the Canyon Cinema collection
Tuesday, March 14, 2023 @ 7:30pm (doors 7pm)
16 Sherman Street, San Francisco

Curated by Patricia Ledesma Villon

Familiar sights and inhabitants materialize and depart from the region known as the San Francisco Bay Area; we start anew while certain constants remain. Connections superimpose, persistence keeps us in control, language is curtailed, and recollection propels us into another momentum. These films offer a glimpse into a nexus of these fragments brought together by Canyon Cinema, a vital outlet that has served as local backyard screening series, cooperative, distributor, confluence, and artist-run assembly despite moments of transition, in addition to many other identities ongoing and defined in between.

As always, this Salon event is free and open to the public, with refreshments served beginning at 7pm and the doors closed for the start of the show at 7:30. Please note that well-fitting masks (N95 or KN95) are strongly encouraged, and that the theater's seating capacity is extremely limited. An informal conversation with the curator will follow the screening.

Screening Line-up:
One and the Same by Gunvor Nelson (1973, 4 min, 16mm)
Market Street by Tomonari Nishikawa (2005, 5 min, 16mm, silent)
Kino Da! by Henry Hills (1981, 4 min, 16mm)
Degrees of Limitation by Scott Stark (1982, 3 min, 16mm, silent)
July '71 in San Francisco, Living at Beach Street, Working at Canyon Cinema, Swimming in the Valley of the Moon by Peter Hutton (1971, 35 min, 16mm, silent)
Go Like This by Rock Ross (1985, 4 min, 16mm)
all the corners of telegraph avenue, facing west by Miriam Campos-Quinn (2006, 3 min, Super 8 transferred to 16mm at 24fps, silent)

About Patricia Ledesma Villon:
Patricia Ledesma Villon is a moving image archivist and researcher. She has processed audiovisual collections and worked on archival initiatives for the Prelinger Archives, the Center for Asian American Media's "Memories to Light" home movie project, filmmaker and scholar Trinh T. Minh-ha, and the Philippine Film Archive. She is a graduate of UCLA's MLIS program with a specialization in Media Archival Studies, where she conducted research on the role of commercial, archival, and artist-run film laboratories in the moving image archiving and preservation field. Born and raised in the San Francisco Bay Area, Patricia is also a curator and co-organizer for Light Field, an annual exhibition of recent and historical moving image art on film, and a member of the artist-run Black Hole Collective Film Lab in Oakland, California. Her writing has appeared in Cinergie – Il Cinema e le altre Arti and is forthcoming in The Moving Image.
She currently serves on the Board of Directors of Canyon Cinema and is the incoming Bentson Archivist and Assistant Curator of the Walker Art Center's Moving Image department.

The Canyon Cinema Salon series is made possible with generous support from the Hobson/Lucas Family Foundation, The Owsley Brown III Philanthropic Foundation, and The Andy Warhol Foundation for the Visual Arts.



---