Now Available: Three New Films by Federica Foglia
Posted July 7th, 2023 in Announcements, New Acquisitions, New Digital Files, News / Events

Canyon Cinema is pleased to announce that exhibition files for three new handmade films by Federica Foglia are now available, including: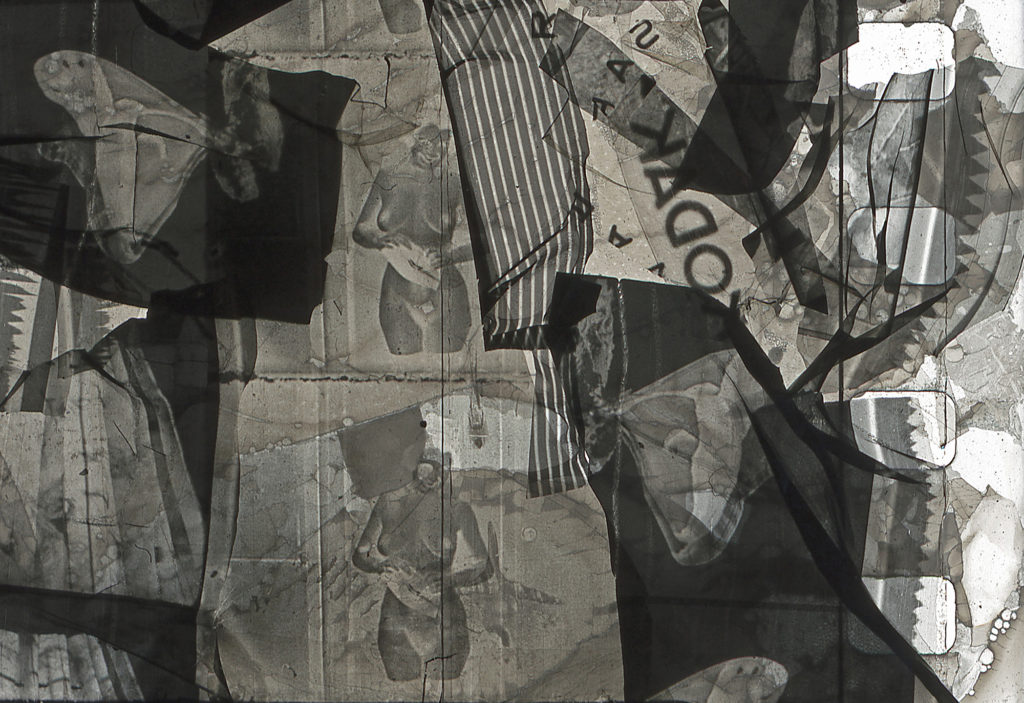 Negative / Positive Film (2023, 14 minutes, b&w, sound, digital file)
Negative / Positive Film is a hand-made, camera-less collage film composed of layers of erotic 16mm films from 1920s, 1940s, and 1970s, intermingled with nature documentaries and layers of organic materials. This visual abstraction merges together both positive black-and-white film, and its negative black-and-white counterpart – on the same film base. This allows the film to exist in two versions, one positive and, the other negative. The artist once again uses the very delicate technique she has been perfecting over the past years of Emulsion Grafting, also known as Emulsion Lifting. The film is an abstract remediation of female bodies dislodged from their original erotic context and, ripped away from their male co-protagonists. The man is removed from the picture, while the female body slowly merges with the body of insects and flowers at the crossroad between eco-criticism, decorative art, sculpture, and cubism. This unique film uses organic material, melted together with gelatine emulsion, first liquified then re-solidified, to produce a crystallized allegory of womanhood.
Skyscraper Film (2023, 8 minutes, color, sound, digital file)
Skyscraper Film is a camera-less handmade film collage created from scraps of 16mm orphan films from 1970s. Originally produced to promote tourism in North America these films are remediated by the filmmaker to create an abstract collage via the Emulsion Lifting/Emulsion Grafting technique. With this technique the filmmaker lifts by hand the emulsion layer from the film base and subsequently places it on a different film base, this way a celluloid collage is created, then re-animated.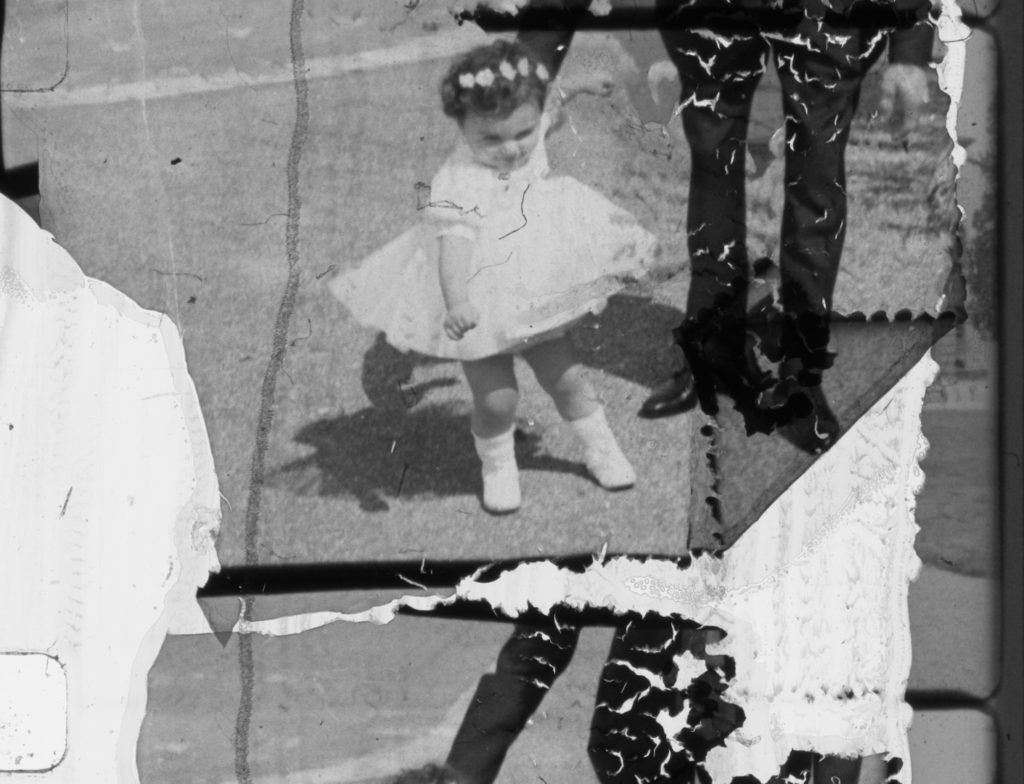 Innesti Neri e Bianchi (2022, 7 minutes, color, sound, digital file)
GRAFT: in horticulture, the joining together of plant parts by means of tissue regeneration. Grafting is the act of placing a portion of one plant (bud or scion) into or on a stem, root, or branch of another (stock) in such a way that a union will be formed and the partners will continue to grow.
Following a similar approach, several 8mm and 16mm home movies (c1930s – c1970s) are assembled into a hand-made collage reflecting on the personal and cultural process of "becoming" a woman. The original found footage, mainly portraying women intent in their domestic lives, has been collected obsessively from eBay auctions, then remediated through a number of artisanal techniques: celluloid decay in soil and water, emulsion scratching, painting on film, digital manipulation and finally, emulsion lifting. The latter by soaking the film in a bath, slowly removing the image from its base, and placing it on another, a celluloid graft.
Throughout the film, traditional milestones of western catholic culture punctuate a woman's chronological evolution from childhood to death: first communion, confirmation, marriage, motherhood, housewife-hood, etc. In an odd paradox, the filmmaker has experienced none of these moments in her life. Troubling these images acts as a visceral intervention in which the personal lived experience of the filmmaker is interwound with the iconography of womanhood in the collected home movies, relying on eBay as an invaluable repository to counter the official archives.
---