New Artist Member: John Woodman
Posted April 21st, 2022 in Announcements, New Acquisitions, New Digital Files, News / Events

Canyon Cinema is pleased to welcome the UK-based artist and filmmaker John Woodman to the collection!

John Woodman is an artist working with landscape film/video and photography and studied at St. Martin's School of Art and the Slade School of Art. He worked as a Senior Lecturer in Visual Communication Studies at West Midlands College from 1980-87, Principal Lecturer and Chair of Design at Exeter School of Art and Design/University of Plymouth from 1988-96, and Head of the School of Communication and Media at Cumbria Institute of the Arts from 1996-2006. Woodman established the Centre for Landscape and Environmental Arts Research (CLEAR) and was director of the Centre from 2004-08. He is currently an Honorary Research Fellow of the University of Cumbria.

Woodman's recent work continues his investigation, through the observation of landscape and natural phenomena, of issues concerning representation, duration, and perception. Using a fixed frame and hand held camera the work explores concerns of time-space and light, focusing on visual transformation, change, and transience. Working in "Real Time," particular emphasis is given to the way in which, through time, changes in light, weather, and season affect our perception of space and place in film. Consideration of reflexivity and the spectator's phenomenological experience of viewing and the contemplation of video and film of long continuous duration is an important aspect of his work.

Ten of Woodman's films are now available for rent from Canyon Cinema, including:


Light and Dark (2021, 26 minutes, color, sound, digital file)
The film is presented in 7 sections which explore and celebrate different qualities of light and dark through the interrelationships of movement, duration and sound and in several sections, silence. The sections have been intentionally placed in the sequence order to create contrast and difference in subject and in the representational qualities of light. An intrinsic aspect of this film is time, and with each section filmed in a continuous long duration, they provide for the possibility of a contemplative and reflexive viewing experience.


Time-After Canaletto (2021, 12 minutes, color, silent, digital file)
It was a hot sunny day in Venice, peering from the Rialto Bridge at a view which must be one of the most commonly shared scenes of the local topography. Thinking about colour, light and the beauty of Giovanni Canaletto's paintings and of the way in which he made use of his camera obscura and wondering how different it would have been in 1730.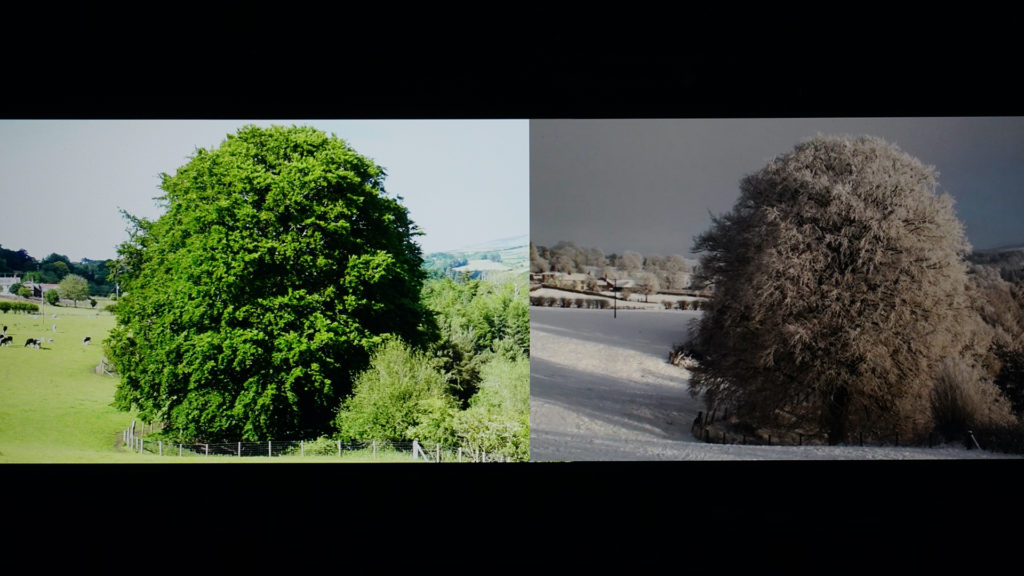 Beech Tree (2 screen) (2020, 26.5 minutes, color, silent, digital video)
This twin screen film (set adjacent within a 16:9 format) celebrates the Beech Tree through the changes in light, space and time, represented in the film in transitions between light and shade and visibility and obscurity. BEECH TREE- ILLUMINATION (LS) depicts differences in light, from shade to varying degrees of illumination. BEECH TREE- APPEARANCE (RS) depicts how different weather conditions affect the representation of the image. Each of the films are comprised of a series of hand held continuous 'real time' takes of various durations recorded over a period of 10 years from 2010-20.


Beech Tree – Illumination (2020, 26.5 minutes, color, sound, digital file)
BEECH TREE – ILLUMINATION was filmed over a 10 year period from 2010-20, it explores representation through the liminality of time, space and light in different seasons, weather conditions and times of day. The visual appearance of the tree is intermittently changed and transformed from different degrees of shade, light and colour to more intense levels of illumination.


Appearance (2019, 8 minutes, color, sound, digital file)
Just as a tree grows from its roots in the earth towards the sky. The image in APPEARANCE seems to 'grow' very gradually from the bottom centre of the frame upwards, as the mist clears and the image reveals itself, presenting a reflexive and phenomenological encounter for the viewer. The tree is also 'growing' to become one of the most important symbols for the anthropocene. APPEARANCE continues my exploration of experimental and observational landscape films and the relationship between light, duration and visual transformation.


The Separation (2016, 6 minutes, color, silent, digital file)
The Separation is a reflection on light, duration, and visual transformation. Filmed in one continuous take at a constant aperture, moonlihgt on the sea surface is intermittently revealed and obscured by clouds, presenting a reflexice and phenomenological viewing experience. The title refers to Genesis and the film could also be comprehended as a visual analogue to the cinematic apparatus itself, with consideration of the ways in which light separation occurs in both the perceptual and physical processes of representation. This is a silent film.


November Morning (2010, 12 minutes, color, sound, digital file)
Through a long continuous take filmed on a cold November morning, the video presents the viewer with a 'real time' phenomenological experience of change, transience and visual transformation. As the mist begins to clear more of the landscape is gradually seen. The mist also works as a screen to intermittently reveal and obscure the intensity of the suns light. Eventually the mist returns and once again the video space is changed.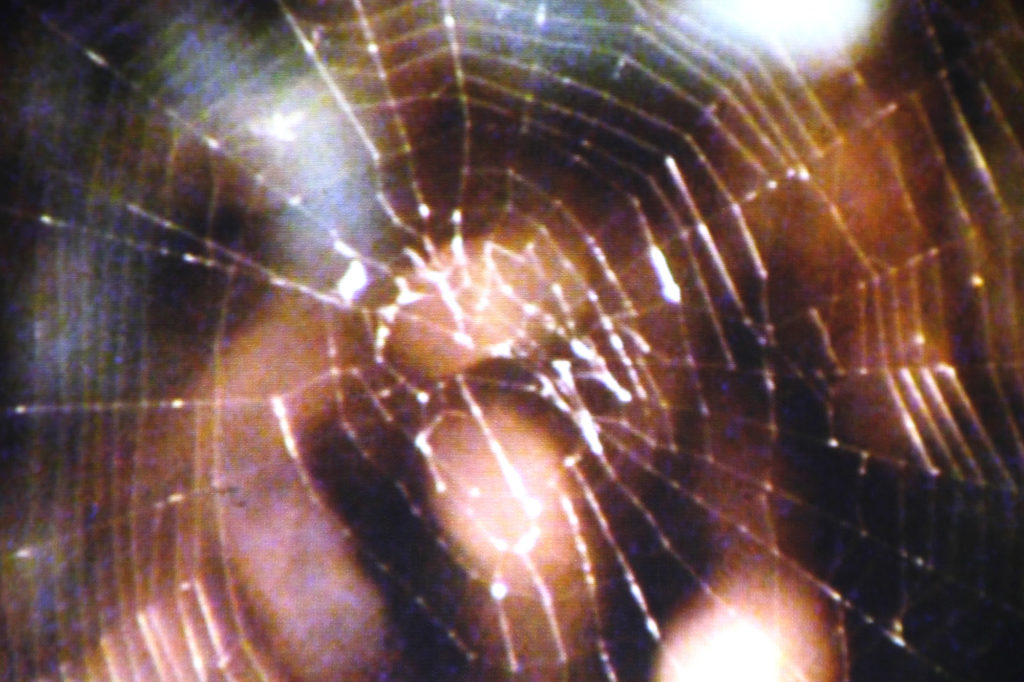 Spider (1979, 11 minutes, color, silent, digital file)
A hand held 16mm camera was framed and focussed on the centre of a spider's web for a continuous duration of 11 minutes, the length of a 400ft reel of 16mm film. It presents the viewer with a durational 'reel time' phenomenological experience in 'on screen' observation and anticipation as the film unfolds. A sense of the film's intentionality is enhanced for the viewer by the use of a hand held camera which moves in a distinctive way in a continuous effort to keep both the centre and the 'fineness' of the spider's web in focus.


Pear Tree (1977-81, 14 minutes, color, silent, digital file)
This Super 8 film is comprised of 4 second real time takes of a Pear Tree from the same fixed framed viewpoint, recorded each week over a period of four years. The film was made in the garden of the house where I lived in Denmark Hill, London. It is a comparative study of changes and differences in light and colour recorded hand held and 'in camera' at different times the day, every week over a 4 year period.


Time Flow (1977, 11 minutes, color, silent, digital file)
TIME FLOW is a two screen projection (now in digital form on 16:9) and is a short meditation on film time, light and movement, recorded on the Suffolk Stour, UK. Two 16mm cameras were used for filming and placed adjacent to each other and framed to create a visual continuum and panorama of a small section of river surface. Both cameras were started at exactly the same time, one loaded with a 400ft reel of film at the normal 25fps for a continuous take and the other using 4 separate film reels of 100ft. Starting with the first reel filmed at 50fps, the second at 10fps, the this at 1fps and the fourth at 1 frame every 10 seconds. A fishing float was used as a visual reference to indicate the film speed and time differences across the 2 screens.



---