Now Available: 12 Exhibition Files from Ben Russell
Posted May 19th, 2023 in Announcements, New Acquisitions, New Digital Files, News / Events

Canyon Cinema is pleased to announce a major new deposit of digital files from Ben Russell. Included amongst this acquisition are 9 titles that are new to Canyon's catalog (see below), as well as exhibition files for three films that were previously only available on 16mm: Black and White Trypps Number Three, Trypps #5 (Dubai), and Workers Leaving the Factory (Dubai).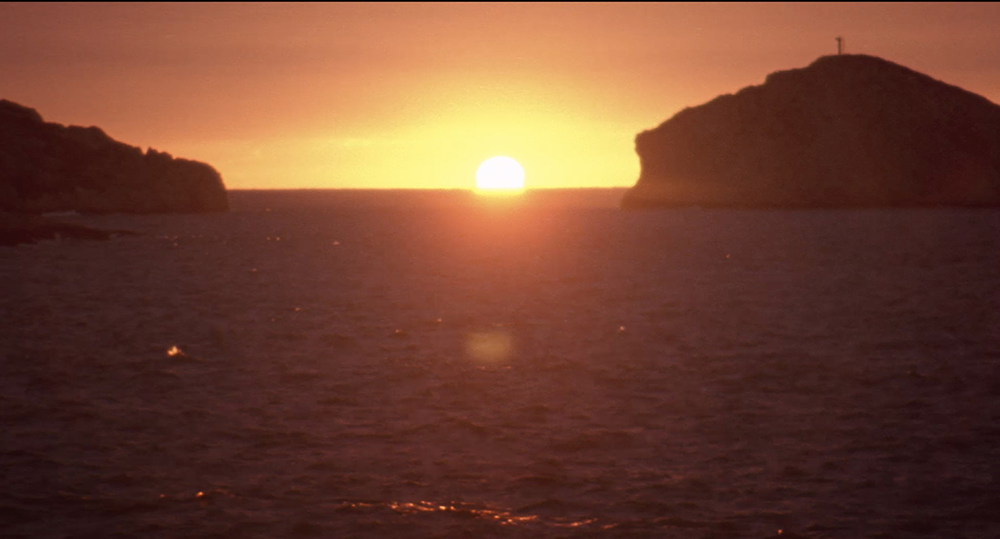 Against Time (2022, 23 minutes, color, sound, digital file)
A tone-poem in blue and red.
Color-Blind (2019, 30 minutes, color, sound, digital file)
A synaesthetic S16mm portrait made between French Polynesia and the French province of Bretagne, COLOR-BLIND recruits the restless ghost of Paul Gauguin as an uneasy spirit guide in excavating the colonial legacy of a decidedly syncretic post-colonial present. Featuring im/material guest appearances by: white-tipped reef sharks, color tests, Aldous Huxley's "Island," any number of sunsets, Marquesan techno, Herman Melville, authorized Gauguin reproductions, an illegal kava ceremony, the beach in the 4th season of Survivor, traditional face tattoos, Haka dance rehearsals, Warren Sonbert's "Short Fuse" and a first-hand account of 1 of the 210 nuclear tests conducted by the French government in Polynesia between 1960-1996.
He Who Eats Children (2016, 26 minutes, color, sound, digital file)
A speculative portrait of a Dutchman living in the Surinamese jungle – fixing canoe motors, accused of eating the locals' children.
YOLO (2015, 7 minutes, color, sound, digital file)
Filmed in the remains of Soweto's historic Sans Souci Cinema (1948-1998), YOLO is a makeshift structuralist mash-up created in collaboration with the Eat My Dust youth collective from the Kliptown district of Soweto, South Africa. Vibrating with mic checks and sine waves, resonating with an array of pre-roll sound – this is cause-and-effect shattered again and again, temporarily undone. O humans, You Only Live Once!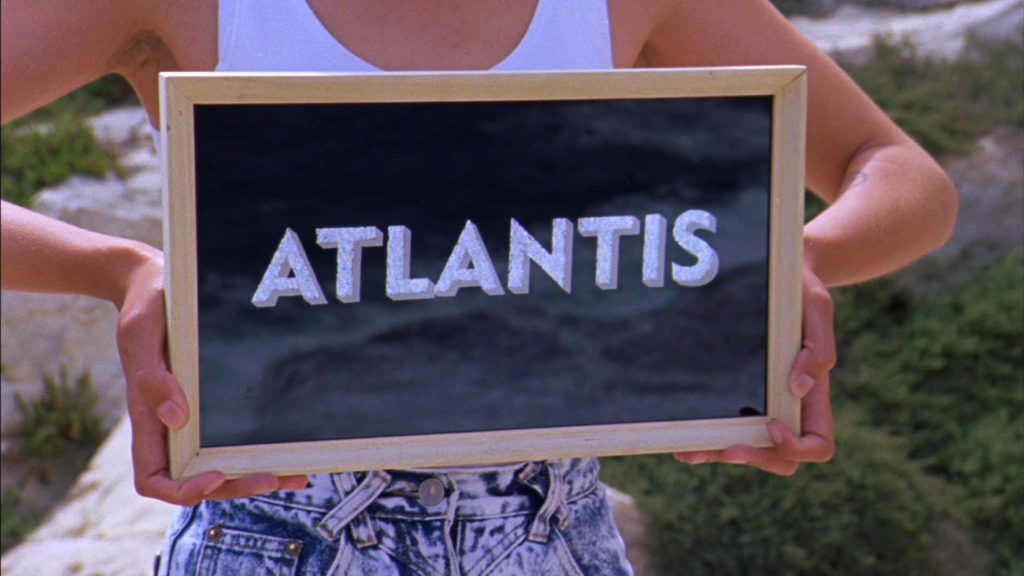 Atlantis (2014, 24 minutes, color, sound, digital file)
Loosely framed by Plato's invocation of the lost continent of Atlantis in 360 BC and its re-re-resurrection via a 1970s science fiction pulp novel, Ben Russell presents a documentary portrait of Utopia – that relative paradise, an island called Nowhere which has never / forever existed beneath our feet. Herein is folk song and pagan rite, reflected temple and Templar Knight, the lonely body of Man disappearing into the glimmering sea. Even with our mouths full of sea-water, we persist – happy and content.
Greetings to the Ancestors (2014, 29 minutes, color, sound, digital file)
Set between Swaziland and South Africa, in a region still struggling with the divisions produced by an apartheid government, GREETINGS TO THE ANCESTORS documents the dream lives of the territory's inhabitants as the borders of consciousness dissolve and expand. Equal parts documentary, ethnography and dream cinema, GREETINGS TO THE ANCESTORS presents a world whose borders are constantly dematerializing.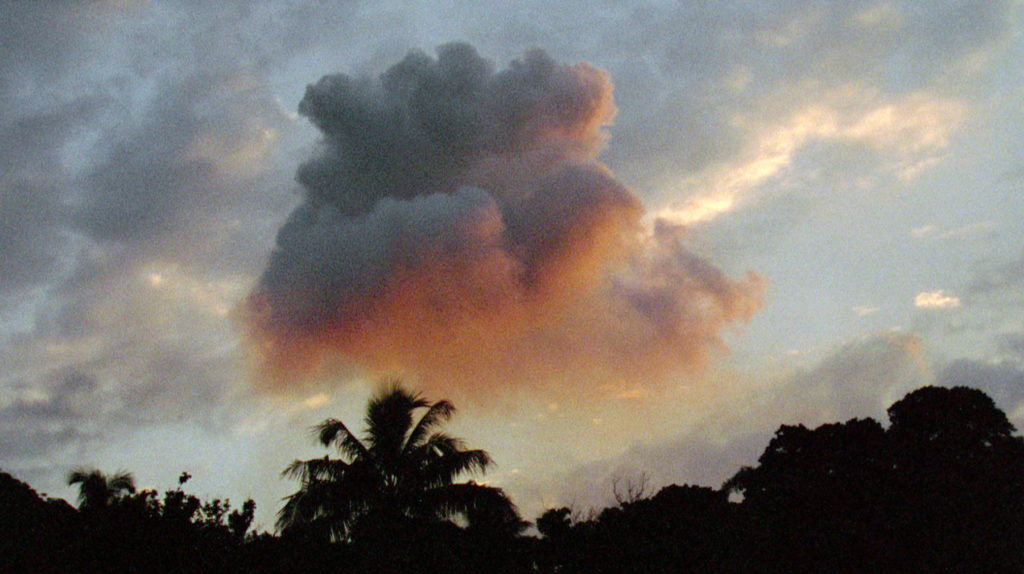 Let Us Persevere In What We Have Resolved Before We Forget (2013, 20 minutes, color, sound, digital file)
"We are happy. (Silence.) What do we do now, now that we are happy?"
– Samuel Beckett, Waiting for Godot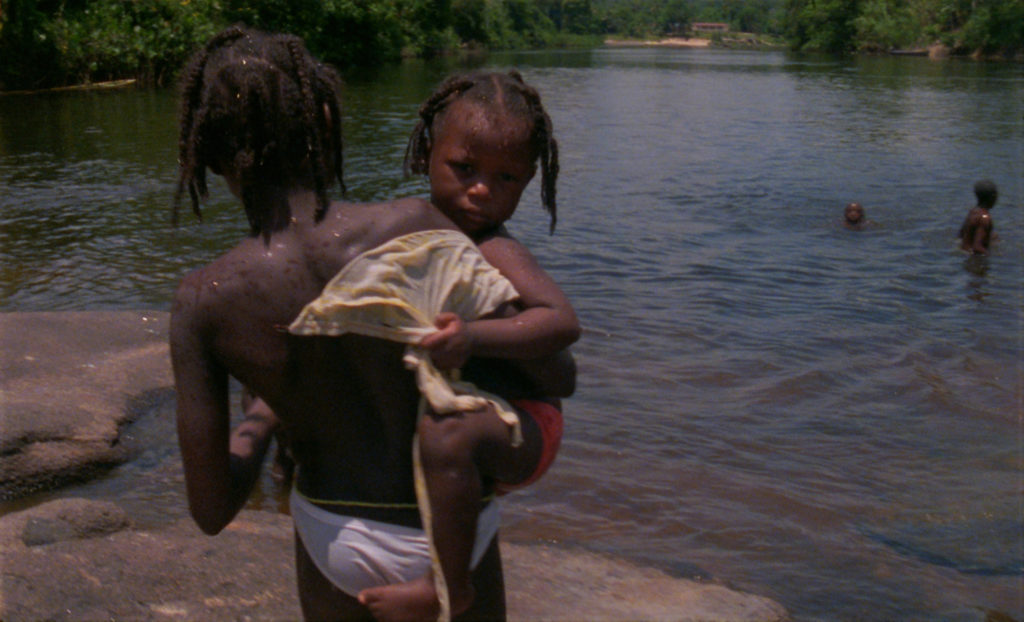 River Rites (2011, 11 minutes, color, sound, digital file)
A trance dance water implosion, a newer line drawn between secular possession and religious phenomena. Filmed in one shot at a sacred site on the Upper Suriname River, the minor secrets of a Saramaccan animist everyday are revealed as time itself is undone. Rites are the new trypps; embodiment is our eternal everything.
Trypps #7 (Badlands) (2010, 10 minutes, color, sound, digital file)
"Trypps #7 (Badlands) charts, through an intimate long-take, a young woman's LSD trip in the Badlands National Park before descending into a psychedelic, formal abstraction of the expansive desert landscape. Concerned with notions of the romantic sublime, phenomenological experience, and secular spiritualism, the work continues Russell's unique investigation into the possibilities of cinema as a site for transcendence."
– Michael Green, Museum of Contemporary Art Chicago
Trypps #5 (Dubai) (2008, 3 minutes, color, silent, 16mm or digital file)
"A short treatise on the semiotics of capital, happiness, and phenomenology under the flickering neon of global capitalism."
– BR
Workers Leaving the Factory (Dubai) (2008, 8 minutes, color, silent, 16mm or digital file)
"115 years later, a(nother) remake of the Lumiere Brothers pseudo-actuality film La Sortie des usines Lumière. This time around our factory is a job site, a construction site peopled by thousands of Southeast Asian laborers, a neo-Fordist architectural production site that manufactures skyscrapers like so many cars."
– BR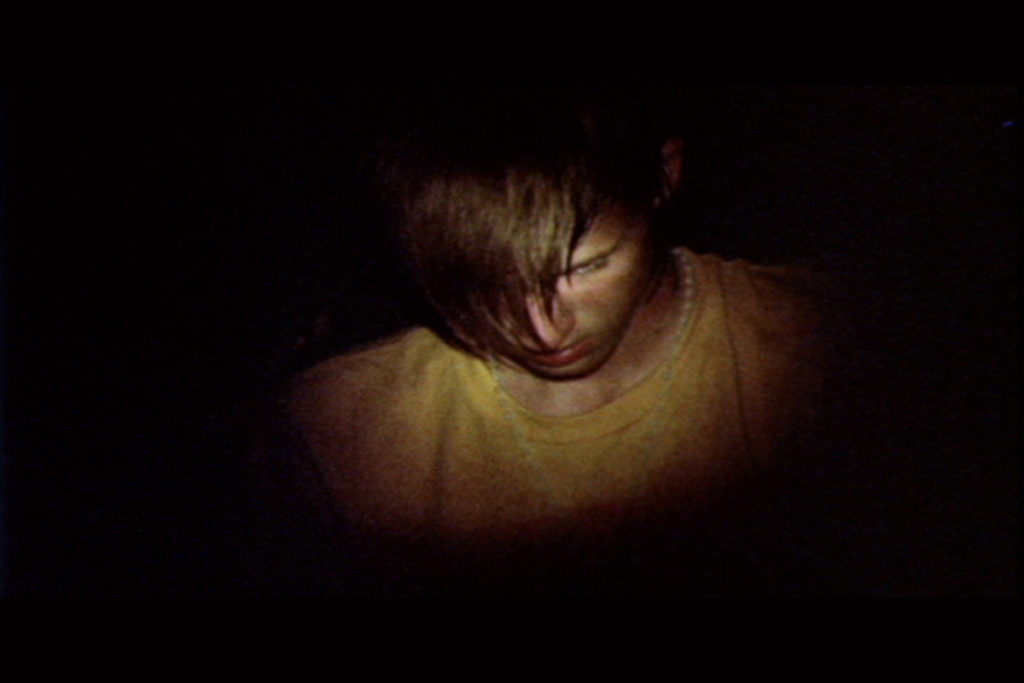 Black and White Trypps Number Three (2007, 12 minutes, color, sound, 16mm or digital file)
"The third part in a series of films dealing with naturally-derived psychedelia. Shot during a performance by Rhode Island noise band Lightning Bolt, this film documents the transformation of a rock audience's collective freak-out into a trance ritual of the highest spiritual order."
– BR
---