Canyon Cinema Salon: finally… Wavelength (the city of San Francisco has been waiting)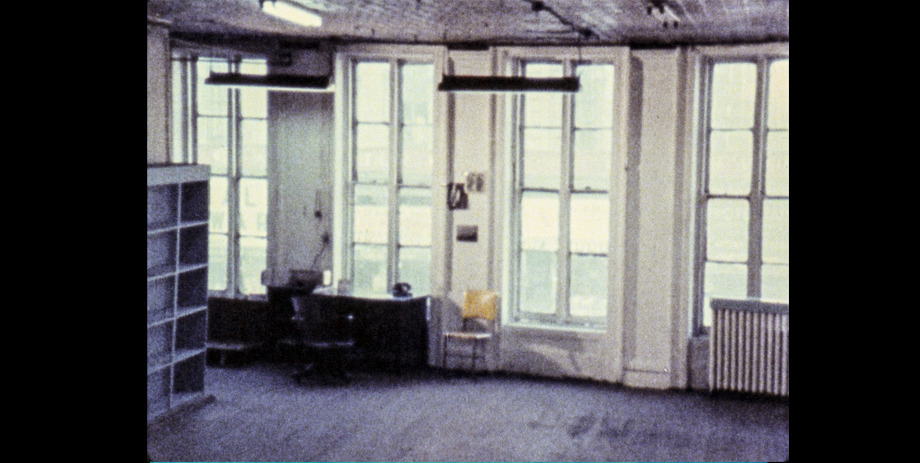 Please join Canyon Cinema Foundation and Black Hole Cinematheque on Monday December 14, 2015 at New Nothing Cinema for a very special presentation of Michael Snow's Wavelength (1967).
Having not screened publicly in the San Francisco Bay Area in nearly 16 years, this groundbreaking film is an avant-garde classic heralded by Jonas Mekas as "the outstanding film of 1968… a very beautiful and important film."  Shot in one week in December 1966,  "Michael Snow's Wavelength consists of a single, fitful zoom across his New York loft space. Over the course of the film's duration, furniture movers deliver a shelf, a man breaks into the loft and dies, and a woman discovers the body — all while the zoom continues relentlessly on. The zoom's compression of time and space serves as a through-line which Snow adorns with a series of techniques — color filters, a sine-wave glissando, varied film stocks, superimposition, the aforementioned human drama — that distort our perceptions, interrogate the role of narrative in cinema, and execute a radical and transcendental break with the conventions of film language." – (from TIFF.net)
The Canyon Cinema Salon Series is a FREE event hosted at New Nothing Cinema (located at 16 Sherman St, off Folsom between 6th and 7th in SOMA).
7:00pm – Reception
7:30pm* – Screening
*Note: Street entrance locked at 7:30 – please arrive on time.
Refreshments for this event are provided by
Ordinaire Wine
 – purveyors of fine
 natural wines.
The Canyon Cinema Salon series is made possible with generous support from the George Lucas Family Foundation and The Owsley Brown III Philanthropic Foundation.
"'Wavelength' is without precedent in the purity of its confrontation with the essence of cinema: the relationships between illusion and fact, space and time, subject and object. It is the first post-Warhol, post-Minimal movie; one of the few films to engage those higher conceptual orders which occupy modern painting and sculpture. It has rightly been described as a 'triumph of contemplative cinema.'" – Gene Youngblood, L.A. Free Press, 1968