Canyon Cinema Salon – Lynn Marie Kirby – Monday, March 7, 2016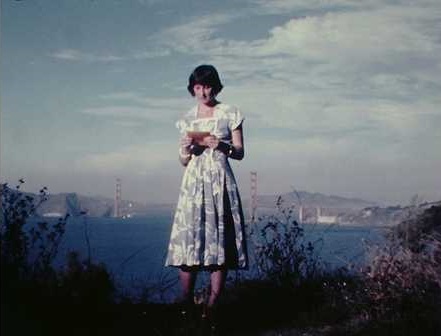 Please join Canyon Cinema on the evening of Monday March 7, 2016 at New Nothing Cinema for the next installment in our Salon series. This month, we're pleased to welcome filmmaker and teacher Lynn Marie Kirby.
This evening's selection of films is made by filmmakers across generations, and communities. Three of the works are made by current California College of the Arts graduate students, one a recent graduate of CCA, and three of the films are made by filmmakers who attended the graduate program at the San Francisco Art Institute in the late 70's and into the 80's. Each group of filmmakers worked on one another's films, and contributed as part of a close community, exploring ideas around cinema, contemporary culture and the effects of history, gender roles and family. Sharon Couzin brings to the program the broader dialogue of filmmaking in the US and Europe in the early 1980s.

—Lynn Marie Kirby, curator for the evening
The Canyon Cinema Salon Series is a FREE event hosted at New Nothing Cinema (located at 16 Sherman St, off Folsom between 6th and 7th in SOMA).
7:00pm- Reception
7:30pm* – Screening and discussion.
*Note: Street entrance locked at 7:30 – please arrive on time.
Program will include:
Deutschland Spiegel by Sharon Couzin, 1980, 12 min.
Sister by Paul Burke, 2016, 6min
Asiam by Toney W. Merritt, 1982, 6 min.
Recital by Stephanie Beroes, 1978. 20min
Thirteen Steps by Anysa Saleh, 2014, 9min
Morning Blues by Janak Vootkuru, 2015, 3 min.
Sharon and the Birds on the Way to the Wedding by Lynn Marie Kirby, 1987, 23min
Grandmother and Me by Kat Cole, 2015, 6 min.